Stylish Japanese Gals in Shibuya
Tokyo street fashion snap of three stylish blonde Japanese gals in Shibuya.
These three extremely friendly and fun Japanese gals were walking down Center Street in Shibuya when we asked them for a picture. They didn't just say "yes", they went into full photo mode – posing, smiling, laughing, and making cool faces for our camera. We talk to a lot of Shibuya girls, and these girls were cooler than most!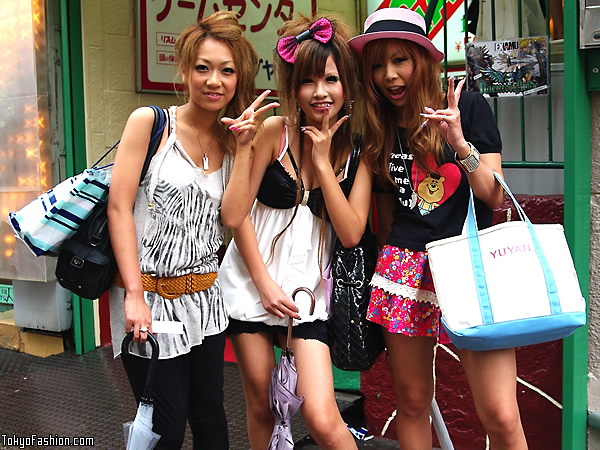 As far as these gals' fashion and hair, it's extremely modern and hip for this summer season. The gal on the left is wearing a long shirt (or a short dress) with an animal print pattern (animal prints are super in right now in Tokyo), a wide belt (wide belts are super in as well), some black calf length pants (or loose leggings?), and black strappy high heels.
The girl in the middle is wearing what looks like a camisole dress, but what could be a camisole and mini-skirt. Whatever it is, the camisole element is really cute up top with white ruffles and shiny black straps. Speaking of straps, she's also showing several colors of straps on her shoulders – black, white, and pink. Her shoes are black high heel sandals. And, she's topped it all off with a super cute pink and black polka dot hair bow.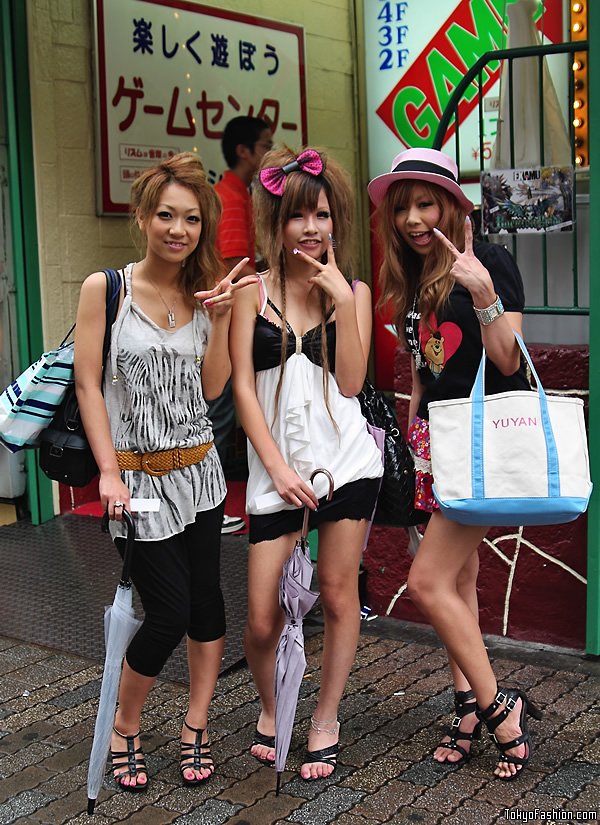 The definitely-not-lacking-in-personality Shibuya gal on the right is wearing a pink and black hat, a black t-shirt with a cute bear and (I think) the words "Please Give Me A Luv". The cute t-shirt appears to be from the brand WC by Wakatsuki Chinatsu. She's also wearing a red mini-skirt with a flower pattern and quite high black heels with buckles on the sides and front.
These girls were sparkling, and not just their nails! The girl on the left is wearing a silver necklace and a ring with a large sparkling stone in it. The camisole worn by the girl in the middle has a large sparking detail down the center. The girl on the right is wearing a sparkling (shark tooth?) necklace and a watch with a wide sparkling band.
The girl on the left is carrying a black handbag, as is the girl in the middle. The girl on the right is carrying a bag with the text "Yuyan" on the side. I am not familiar with that brand – if it is a brand? All three girls are also carrying umbrellas, and it did start to rain shortly after these pictures were taken.
You can click either photo above to see them in higher quality.