Suspender Skirt Girls in Harajuku
Tokyo street fashion shot of two Japanese girls on Cat Street in Harajuku. These girls are dressed in very modern and hip fashion for the Summer 2009 in Japan.
The girl on the left is wearing a black pleated suspender mini-skirt, a vintage style Rolling Stones concert t-shirt which is a collaboration between the Japanese brand Vence and the American brand Junk Food, a black leather shoulder bag with cute heart bears (Care Bears?) hanging from it, and studded high heel gladiator sandals. The girl on the right is wearing cuffed jeans, a print t-shirt, a black baseball cap, a studded bracelet, a large black shoulder bag, and high heel sandals with buckles.
Both girls are carrying shopping bags from the Japanese shop Luxuria. If you look closely, they are both wearing necklaces with silver star charms on them. The girl on the right also has silver star details on her hat, and the girl on the left has a silver star hanging off of her suspender skirt. Not sure if that's a coincidence or if they coordinated their stars.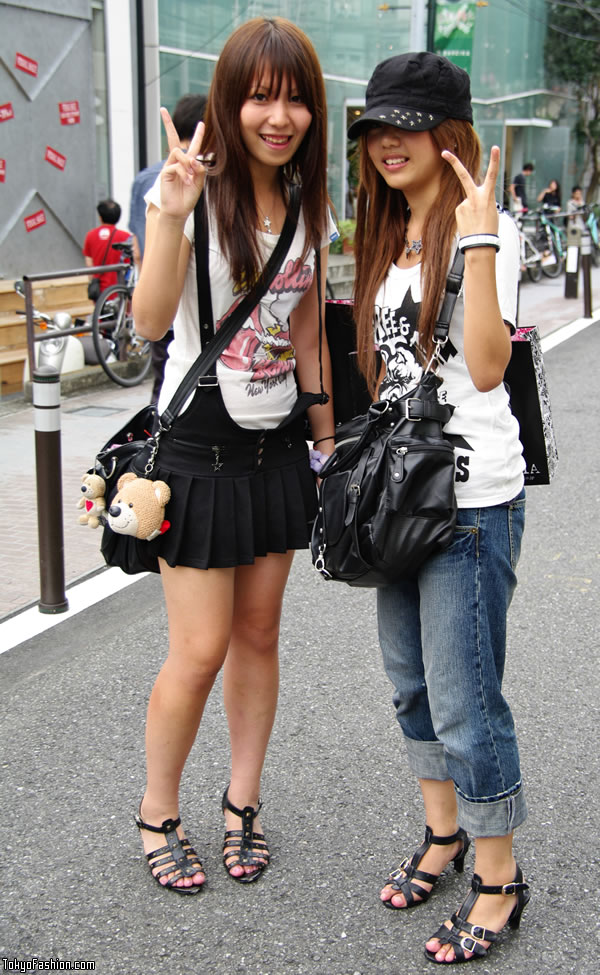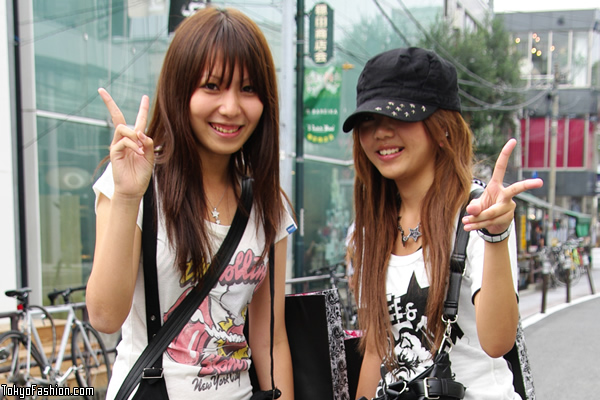 Click on either photo to see a bigger version.
Update – a reader wrote in to suggest that the cute bears that the girl on the left has attached to her bag are probably from Suzy's Zoo, not CareBears. Thanks for the tip!