Tag
apple handbag Japanese Street Fashion
Browsing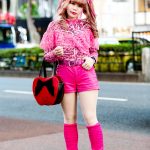 Kinji Shimokitazawa staffer sporting a pink street style while out and about the Harajuku street.
Read the full article »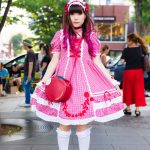 Harajuku lolita in red & white gingham lolita dress, ruffle socks, platform baby doll shoes, apple sling bag, and cute accessories.
Read the full article »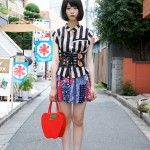 16-year-old Japanese girl in corset-belted striped top and patchwork skirt with BodyLine and Monomania accessories in Harajuku.
Read the full article »