In yet another update on the problems with the Japanese economy and how they are impacting the fashion industry, the massive Japanese company Takashimaya has issued a profit warning 2008. They blame the problems on "extremely weak consumer demand in Japan", which is not good news for any retailers.
The Takashimaya Department Store in Shinjuku: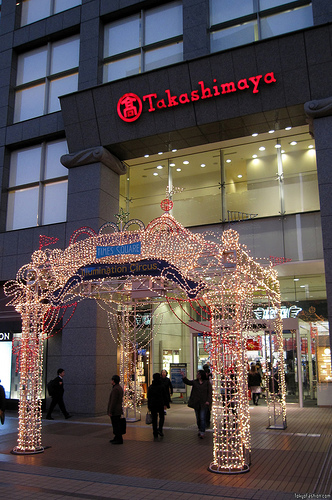 Takashimaya operates the massive Takashimaya Times Square department store near Shinjuku station in Tokyo as well other stores around Japan. According to WWD:
…Takashimaya's net profit for the nine months ended Nov. 30 dropped 12.8 percent and sales fell 4.7 percent…
Even more troubling is the conclusion of the WWD article where they talk about all of the other problems that large Japanese department stores are having, including Isetan who issued a similar warning themselves recently. This is the 12th consecutive year that Japanese department stores have reported declining sales, and the economy looks to be getting worse, not better.
Hopefully, by the end of 2009 things will be looking up. Time will tell.