Tokyo Girls Collection 2012 Autumn/Winter Street Snaps
Tokyo Girls Collection – one of Japan's biggest fashion events – takes the form of a massive indoor party featuring fashion shows, live music, special guests, real-time shopping, and more. We've been covering TGC for years, and what we've learned is this: as goes Tokyo Girls Collection, so goes the Tokyo street. Far more accurate than what we see on the runways, the 30,000+ fashion-conscious young Japanese women who converge on TGC are a near-perfect predictor of Tokyo street trends for the coming season.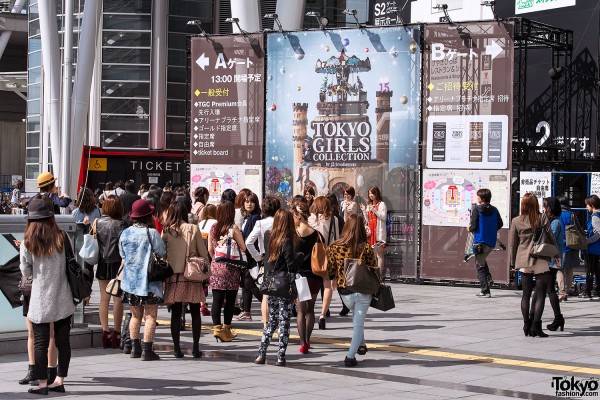 This weekend, we made our pilgrimage to the 2012 Autumn/Winter Tokyo Girls Collection. We're preparing our massive report on the goings-on inside of Saitama Super Arena, but first we want to share the street snaps we took outside of the event. These pictures of TGC attendees should give you hints of Japanese street fashion styles for fall 2012.
The trends we noticed while watching 30,000 people on their way to Tokyo Girls Collection included faux leather shorts & skirts (easily the most noticeable trend, and something we've seen on the streets of Harajuku and Shibuya lately as well), hats with ears (we blame Juria for this trend), beige color palettes, fur collars, leopard print clutches (and other leopard print items as well), leather-sleeved wool jackets, and metal collar/stud necklaces.
We tried our best to catch all of the trends we noticed in our Tokyo Girls Collection street snaps. With huge crowds and many girls hurrying to get inside the event, the snaps will never be as good as visiting the event for yourself. Until that day, take a look at these snaps and let us know in the comments if you spot any fall 2012 trends we missed.
Also, check back in the next few days for our big report – with hundreds of photos – from inside of Tokyo Girls Collection 2012 Autumn/Winter!
Click any of the Tokyo Girls Collection street snaps to enlarge them.
Don't forget to check back for our full report from inside of Tokyo Girls Collection 2012 Autumn/Winter – with lots of Japanese brand fashion shows as well as Kyary Pamyu Pamyu!