Violet Hanger x Batman Japanese Bags
While walking in Shibuya this week, I noticed one of the window displays at Marui City Shibuya features some collaboration bags between the Japanese brand Violet Hanger and the American comic book superhero Batman. The bags (both handbags, eco bags, and smaller bags) look to be based on the comic books, not on the more recent movies. The bags show comic book print images with word bubbles and classic comic book power up text like "Kabooooom!" and "Whoooosh!" Looks like something that might be popular with Japanese girls who are into LeSportsac bags.
Violet Hanger is a bag brand that is part of the popular Japanese purse company Samantha Thavasa. The date on the Violet Hanger sign in the window listed the dates October 10th thru November 7th. I'm not sure if that is just when the bags are available at Marui, or if these are limited edition items that will only be available in Japan during those dates. The price listed on one of the bags was 15,750 yen, which is about US$150.
Here are some pictures of the bags and the window display: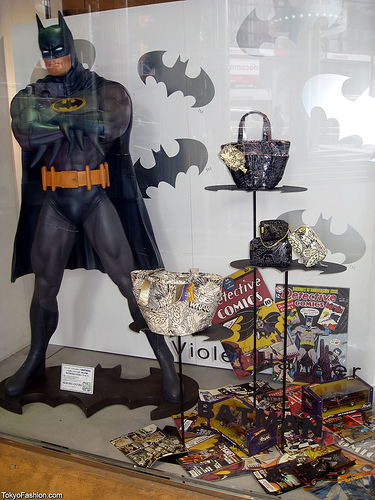 Samantha Thavasa has a flagship shop in Omotesando (at the corner of Omotesando Dori and Aoyama Dori), but I'm not sure if they carry the Violet Hanger brand there or not. Your best bet, if you are interested in these Batman bags, is probably hitting the Marui in Shibuya directly to be safe.
What: Violet Hanger x Batman Print Bags
Where: Marui City Department Store in Shibuya, Tokyo
Address: 1-21-3 Jinnan, Shibuya-ku, Tokyo, Japan 150-0041
Phone: 03-3464-0101
Hours: 12:00 – 21:200
Website: Marui Website (Japanese)
Map: Marui City Shibuya Map
There are bigger images and more pictures on the Tokyo Fashion Flickr set, as usual.
Oh yeah, and the usual disclaimers apply – Batman is a trademark of DC Comics.