Yebisu Garden Place Christmas Pictures 2010 – Baccarat Eternal Lights
Ebisu is only one stop from Shibuya on the Yamanote Line, but the ambiance of the neighborhoods is very different. One thing they definitely have in common around this time of year, though, is that they both have plenty of Christmas Spirit. The main draw in Ebisu around the holidays is the Yebisu Garden Place Illumination. From Ebisu Station, it's a brief and pleasant walk (or you can coast along on the moving walkways) to Garden Place. Once you arrive, the area is all lit up and decorated – from the Entrance Pavilion to the Center and Clock Plazas and even within the Ebisu Garden Place Tower itself. The highlight of their holiday decor is known as the "Baccarat Eternal Lights" display.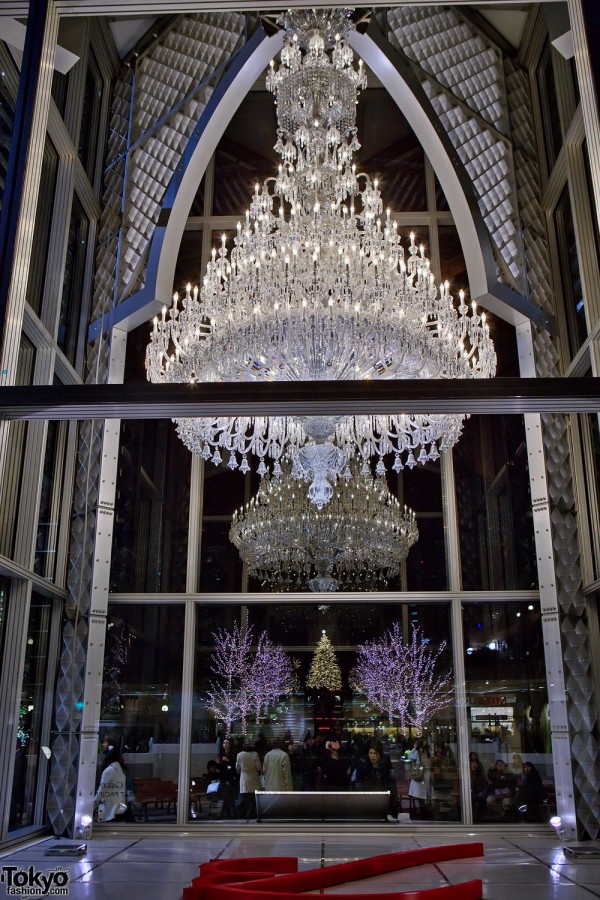 The Baccarat Eternal Lights display consists of a huge crystal chandelier encased in a glass and metal atrium. This Baccarat chandelier – one of the world's largest – is five meters (16.5 feet) tall by three meters (10 feet) wide. Over 8,000 pieces of crystal and 250 light bulbs are incorporated into the chandelier, which hangs in the atrium at the end of a lighted-tree-lined walkway.
At night, the picturesque scenery draws Japanese families and couples eager to take photos of their loved ones surrounded by Christmas lights. Bordering the illuminated-squares are bustling restaurants, cafes, and sweet shops (should I mention Krispy Kreme?), as well as all the clothing and gift-friendly stores you'll ever need to finish your holiday shopping.
The entire Yebisu Garden Place lights illumination – including the mall, the chandelier, the giant tree, the displays inside Garden Place, and all the outdoor plazas – incorporates over 100,000 lights! It's a dazzling display, as you can see from the pictures below. As always, you can click on any photo to see it in super-high-resolution!
Click any of the pictures to see them in high resolution.
For more info on the Ebisu Garden Place Christmas, check their
official site
.
Don't forget to check out the rest of our Tokyo Christmas 2010 pictures – including Harajuku, Shibuya, Shinjuku, and more.