The "Blythe 9th Anniversary Charity Exhibition" in Tokyo brought together over 100 cute Blythe Dolls in original eye-catching costumes designed by Japanese celebrities, fashion designers, and manga artists. The annual show – which just ended its 2010 run at Omotesando Hills – is famous with Blythe fans worldwide because of the amazing effort that Japanese designers put into the doll's outfits. The theme of this year's event was "Manga Girls Inspiration", meaning that the dolls outfits were inspired by Japanese manga.
The show featured unique Blythe dolls wearing styles inspired by popular manga characters, including Lupin the 3rd, Osamu Tezuka's Black Jack, Tokyo Alice, Akko-Chan's Got A Secret!, Rainbow In The Sky, Love Sync Dream, Galaxy Express 999, CLAMP's Cardcaptor Sakura, Cyborg 009, Felix the Cat, The Great Adventure Of Hutch The Honeybee, and Fairy Princess Minky Momo.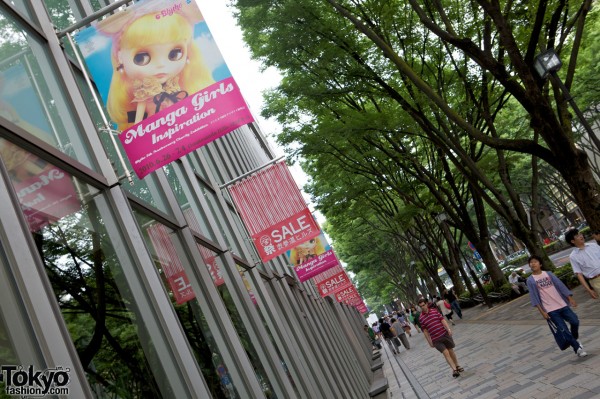 This year's list of participating Japanese fashion brands included Angelic Pretty, Alice and the Pirates, h.NAOTO, EmilyTemple cute, Q-pot, Kenzo, Junie Moon, Super Lovers, Sexy Dynamite London, Hysteric Glamour, tokidoki, Nanette Lepore, Hello Kitty designer Yuko Yamaguchi, Peace Now, Baby The Stars Shine Bright, Metamorphose temps de file, Laundry, Laisse Passe, and 6%DokiDoki.
In addition to the display of Blythe dolls created by fashion designers and mangaka, there was also an auction of Blythes for charity. The charity auction dolls were styled by Japanese celebrities, including Shibuya uber-gal Masuwaka Tsubasa, well-known talento Chiaki, and actress Yokoyama Megumi. The money raised from the sale of these dolls benefits Changrai Home – an organization that works to help orphans in Thailand and Cambodia.
Rather than telling more about the event, we think we'll just let the dolls do the talking. Please check out our massive selection of pictures of these amazingly styled Blythe dolls. If you're interested in seeing these amazing dolls for yourself, the 10th Anniversary show will be held around this time next year – so start planning now! Enjoy the pictures, and remember to click them to see the full-sized versions.
More Blythe information:
The Blythe Character is a copyright of Hasbro, Inc. All rights reserved.
All photos in this article were taken by Will Robb.
About the photographer:
As long as he is behind his camera Will is a happy man. He has photographed everything from the slums of Bangkok to the catwalks of Tokyo. He is a contract photographer for Lonely Planet, his images and photo essays have appeared in Time Out, The Japan Times, Sportswear International and a variety of other newspapers, magazines and guidebooks around the world and his photo essays from Iraq for The Griffith Review even earned him a mention in the Australian book review of the year in 2006. In addition to his media related work, Will also shoots events, portraits, weddings and the occasional CD cover. His full portfolio can be found at WillRob.com and whatever he's working on, he always writes about his jobs and how he goes about them at Will Robb Photography.