"Heavy Pop" is the name of a series of parties produced by Japanese photographer Ray Ochiai. Heavy Pop's main draw is that personalities from the Tokyo street fashion scene are invited to DJ. If you've ever wondered what the fashionable kids in FRUiTS Magazine are rocking out to, Heavy Pop is the place to find out! In addition to the DJs, Heavy Pop also features various live performers (singers, dancers, artists), tasty sweets, and popup shops from indie Japanese fashion brands. Fashion, music, friends, food & fun – not a bad way to spend a night in Tokyo!
So, imagine how happy we were when Ray-san invited us to Heavy Pop Volume 3 – the Golden Week 2012 edition of his party!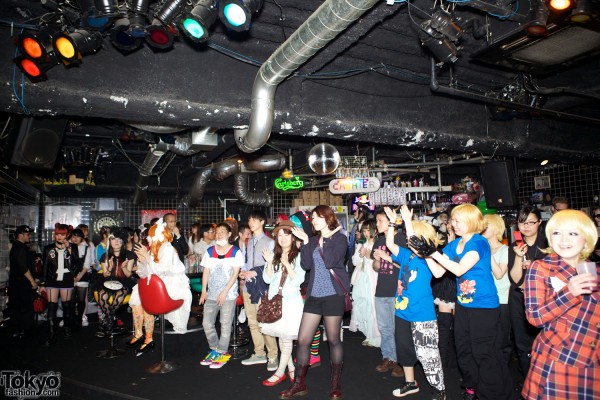 The guests at Heavy Pop #3 included a who's-who of Harajuku street fashion kids. Staff members from several popular Harajuku shops and indie fashion designers also shared time in the DJ booth throughout the night. As you look through the pictures below, you're sure to see faces you recognize from TokyoFashion.com as well as Japanese fashion magazines and street fashion websites.
People we snap on the street in Harajuku who we also met at the Heavy Pop party included Makiron, Mimeko (G2?/MEtA), Minami (Tokyo Bopper), Junnyan (Super Lovers), Kumamiki (Party Baby), Maro & Ken (Broken Doll), Choco (Panama Boy), Ribbon, Shunpei, and several of the Harajuku Fashion Walk crew.
We brought back pictures and video from Heavy Pop to share with those of you who couldn't make it to the party. We hope that the video especially will give you an idea of how fun the evening was! In addition to the pictures below, we published a second report with all of our party snaps from Heavy Pop, where you'll get a closer look at the fashion that attendees were wearing – from ultra-kawaii to lolita to dark gothic. In the meantime, enjoy our Heavy Pop video and pictures. We hope to see you at the next one in person!
Heavy Pop #3 Tokyo Party Video
Don't forget to Follow TokyoFashion.com on YouTube.
Heavy Pop #3 Tokyo Party Pictures
Click any of the Heavy Pop party pictures to enlarge them.
The official lineup for the Heavy Pop party included the following performers: Ray, fleur*, 1A1A, Makiron, GURI, KURAU, Nanairo Syndrome, mimeko VS Ray, Junnyan, Troupe Brioche, Yuzu, Shio Ringo, Tak [zwecklos], KOALAKIMURA, Choco-nuts, Neko-chu & more!
We would like to send a big "thank you!" to Ray and all of the Heavy Pop performers and guests!
The next Heavy Pop party will be held on June 24, 2012. If you'd like to keep up with the latest Heavy Pop news, check out the official blog and/or Twitter.
Also check out our second update with lots of fashion snaps from the floor of the party!
Photos by Kira. Video by TokyoFashion.com.
***
About the photographer:
Born in Japan, educated in Japan and the US, Kira shoots exclusively with Canon DSLRs. Photography assignments include fashion, bands, sporting events, and portraiture for various companies and bands throughout Japan & the world. His portfolio can be viewed at Artist-Photo.