Posts Tagged 'cute accessories'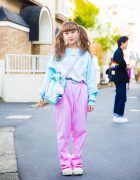 Harajuku girl in pastel fashion with cute sweater, pink pants, pink sneakers, polka dot bag and cute accessories.
Colorful resale fashion and kawaii accessories on Takeshita Street in Harajuku.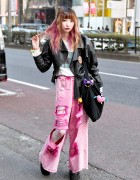 Harajuku girl with pink hair and cute fashion in a leather jacket and ripped pink denim, platform shoes and colorful accessories.