Posts Tagged 'vintage shoes'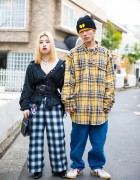 Harajuku duo in gingham print & plaid print pieces with corset, jacket, pants & square toed shoes and vintage shoes & denim pants.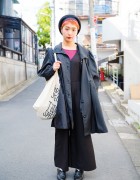 Harajuku girl with short hair and beret wearing a jumpsuit, trench coat, tote bag and vintage shoes.
Cool Japanese guy in a fedora and pin stripes & Japanese girl with a cool blonde bob hairstyle, resale coat, and vintage shoes.