Abercrombie & Fitch Tokyo Store Opens
Abercrombie & Fitch has landed in Asia. Yesterday in the Tokyo, the first Abercrombie & Fitch store in Japan opened to big crowds. Between 800 and 1200 people were waiting outside the new twelve-floor Ginza Abercrombie shop when the doors opened. Inside, they found all of the Abercrombie & Fitch American-style casual luxury they had been dreaming of – along with plenty of buff shirtless models wandering around the store as eye candy. (This was not a good day for Japan's "herbivorous men"!)
The first customers in line at the new Abercrombie & Fitch Ginza store were given giant Abercrombie posters (measuring about 6′ x 2′ or 180cm x 65cm) featuring a shirtless guy on both sides along with the words "Ginza" and "FIERCE".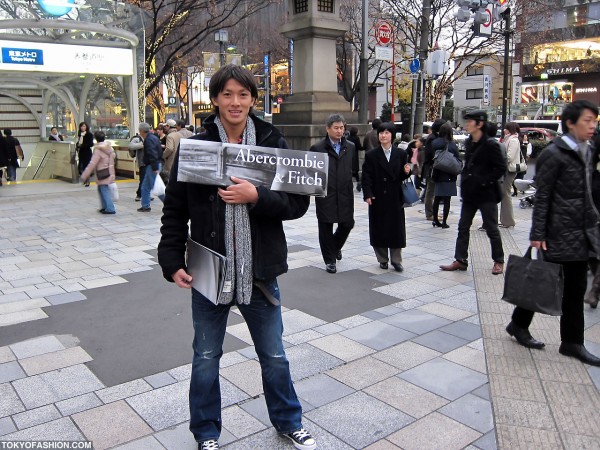 In the days before the opening, the Abercrombie Japanese staff were also handing out A&F posters in Omotesando, which is where the above picture was taken. Omotesando and Shinjuku have been mentioned as possible locations of future Abercrombie shops in Tokyo.
Retail and fashion experts in Japan have been arguing for a while about whether Abercrombie & Fitch will sell as well with Japanese consumers as H&M, Zara, and other foreign fast fashion brands. But regardless of the long term outlook, it's clear by the huge crowd at the opening that Abercrombie is off to a solid start in Tokyo. Time will tell the rest.
If you want to visit the new Abercrombie Tokyo store, here is all of the info you need:
What: Abercrombie & Fitch Tokyo
Where: Ginza
Address: 6-9-10 Ginza, Chuo-ku, Tokyo
Nearest Train Station: Ginza Station
Hours: 11:00 – 21:00
Website: A&F Japan (Japanese)