Adidas Originals Shibuya Opening Soon
As mentioned in our previous up on Adidas Originals Shinjuku, the next Adidas Originals shop to open in Tokyo will be the Shibuya location. The Adidas Originals Shibuya shop will open on December 23, 2008.
Tokyo Fashion happened to be at Shibuya 109 recently and we noticed that the building that the Adidas Originals Shibuya shop will be in is almost ready for action. The nice looking Christmas tree in front of the shop isn't actually inside, but on a pole in front of the window. They have these Christmas trees on poles all around the Shibuya area – pretty cool.
Here is a picture of the new Adidas Shibuya shop – taken from Shibuya 109: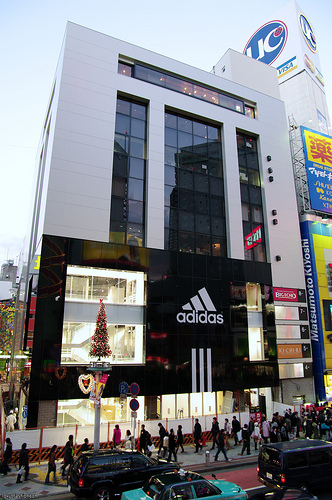 This shop looks like it may be bigger than the new Shinjuku store – depending on how many floors of this building they will occupy. As far as location, it's just across the street from Shibuya 109 (toward Center Gai) and just down the street from the new H&M Shibuya, which will open in 2009.
Here are all of the important details:
What: Adidas Originals Shibuya
When: Opening December 23, 2008
Where: Near Shibuya Station, across from Shibuya 109
Address: 23-5 Udagawa-cho, Shibuya-ku, Tokyo, Japan
Phone: 03-5456-6820
Hours: 10:00 – 21:00
Nearest Station: Shibuya Station
Website: Official Website (Japanese)
We'll keep an eye on the progress of this shop and try to get some pictures on opening day.