An Cafe Ancafesta'12 Summer Dive Fan Fashion Snaps in Harajuku
Antic Cafe (known as "An Cafe" to their fans) is one of the most popular oshare-kei bands in Japan. They are especially popular with Harajuku kids, and the band themselves have referred to their style of music as "Harajuku dance rock". In years past, we used to see large groups of An Cafe cosplayers on Jingu Bashi (the famous Harajuku Bridge) every weekend. Then in late 2009, An Cafe shocked fans by announcing that they were going on hiatus.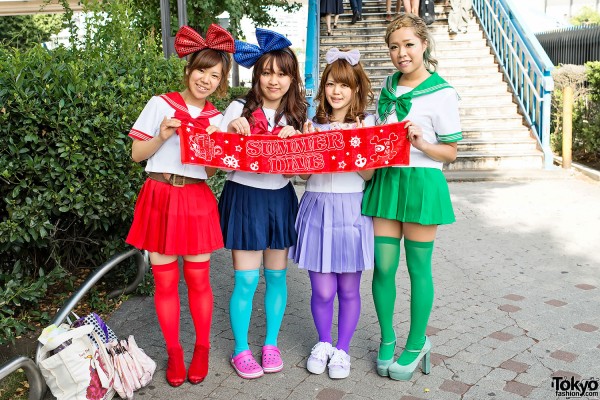 Fast forward to 2012: An Cafe are back! On August 8th and 9th in Harajuku, the band played their first concerts in over two years. Ecstatic fans made sure that both shows – dubbed "ANCAFESTA'12 SUMMER DIVE" – were sold out well in advance. As the date of the first show arrived, An Cafe fans decked out in the colorful fun fashion for which the band is known were seen on Takeshita Dori and other areas of Harajuku.
Besides their huge following in Japan, An Cafe have many international fans. We know that not all of you were lucky enough to score tickets for the band's return at Ancafesta 2012. So, we decided to head out to the second day of the event at Yoyogi National Stadium in Harajuku to get pictures to share with the world. As this is a fashion website, we were interested in the fashion An Cafe fans were wearing at the concert.
We snapped over fifty An Cafe fans during the second day of Ancafesta'12 Summer Dive. The fashion on display was colorful and fun – as we expected from fans of a popular oshare kei band. We saw quite a few lolitas, several maids, various costumes, decora, lots of 6%DOKIDOKI accessories, Super Lovers, fairy kei (including two girls wearing Milklim), loose socks, kigurumi, and more. Check out all of the Antic Cafe fan fashion below and let us know what you think!
Antic Cafe "ANCAFESTA 2012" Fan Fashion Snaps in Harajuku
Click any of the An Cafe fan fashion snaps to enlarge them!
A big thank you to all of the friendly An Cafe fans who we met and photographed at Summer Dive 2012. If you'd like to know more about the band, you can check out their official website!