Bald Japanese Models Run Wild in Harajuku
While walking in Harajuku and Shibuya over the weekend, we stumbled across something very strange. A large group of bald Japanese models walking around together in short dresses with a camera crew. Needless to say, these girls were causing mayhem everywhere they went as shocked passersby stopped to try to get a better look. So what exactly was going on that would get that much attention in an area like Harajuku where the strangest things are basically normal?
Turns out it was a promotion for a Japanese hairstyles magazine! And, the girls weren't actually bald at all, they were all wearing bald wigs, or bald caps or whatever they're called. And, to make things even more bizarre, all of the girls weren't even Japanese – there were some foreigner girls mixed in the group for an unknown reason.
The Japanese hair magazine that the girls were promoting is called HairMag.jp and the slogan of the magazine, or at least of the bald models promotion over the weekend in Harajuku, is "Where is my hairstyle?" Apparently that's a reference to the fact that all of the girls walking around, and some of the pictures on their website, are bald. Crazy idea for a hair magazine – promote hairless girls!
Anyways, the cool thing about this whole store is the pictures, so check them out and see for yourself how very strange it was…
The bald girls where we first saw them in Shibuya getting orders from a guy with a megaphone: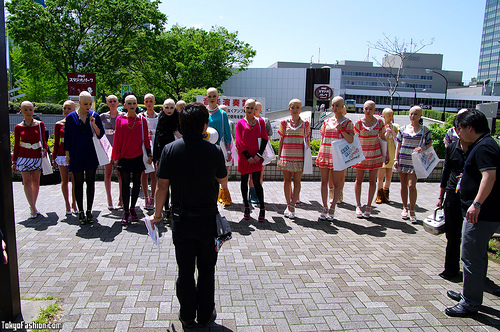 Some of the bald girls getting ready for their assault on Harajuku:

Japanese girls without any hair laughing at us?

Not only are these girls carrying bags with the magazine URL on them, but they have it on the back of their bald heads (or wigs) as well:

Some of the models from the hair magazine posing in front of Gap Harajuku:

Shocked Tokyo-ites watching and taking pictures of the bald hair promo girls walking along Omotesdando Dori:

In case you have a fetish for bald Asian girls, you can see larger versions of any of these pictures on our Flickr page, as usual.
The official website of the hair magazine is here, but it is only available in Japanese.