Big Glasses Guy vs. Moussy Girl
This awesome Japanese guy and girl posed for our street fashion photo in Shibuya. The guy is wearing big black rimmed glasses with purple sides. He's also wearing a fedora hat over a bandana, a v-neck shirt that appears to have a print of some kind of microscopic life form (?), gray acid wash jeans, a studded belt, and Nike Air Jordan sneakers. He's also wearing a necklace with what looks like a huge silver stud from a studded belt on it. The girl with him is wearing a shirt by the Japanese brand Moussy (the shirt says "Nicole", which is strange because there is also a Japanese brand called Nicole), a red front-zip skirt, a wide black belt with gold hearts, sunglasses, and tall black wedges. Her watch looks like a Nixon Vega model – which is a very popular watch in Tokyo.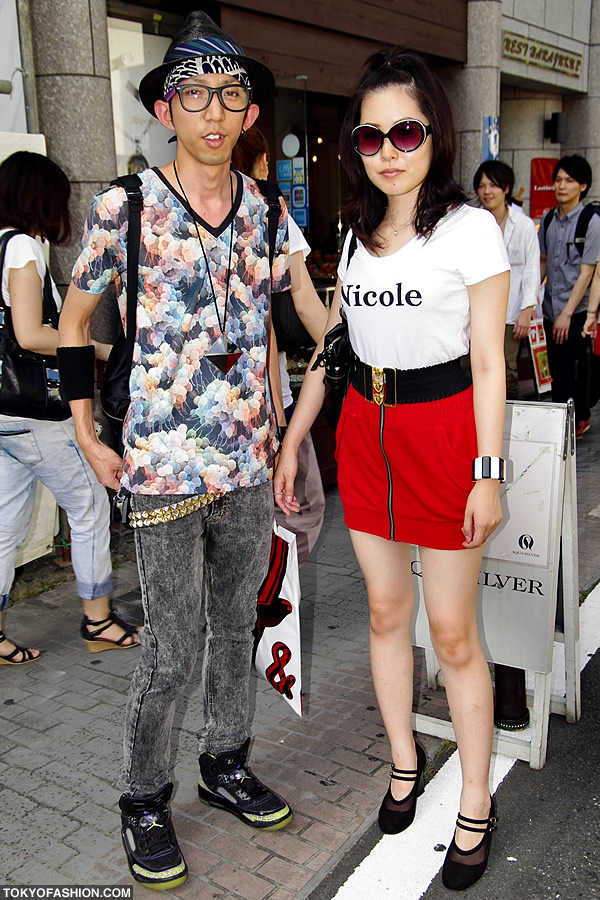 Click the photo to see it bigger.