Botanika by Taishi Nobukuni at Loveless
The Loveless boutique in Aoyama is known worldwide for carrying some of the coolest clothing brands in all of Tokyo. Lesser known, but almost as cool, Loveless has one of the best rotating window displays in town. In keeping with our goal of providing interesting photos from the world of Japanese fashion, here's this week's Loveless window display:
Botanika by Taishi Nobukuni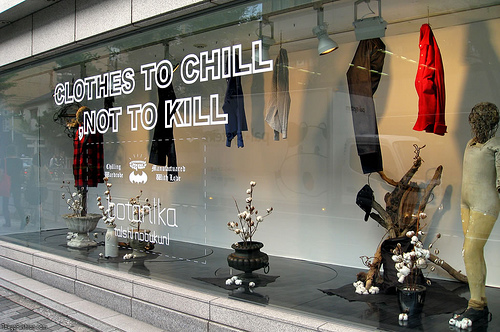 And a closeup of the same window:
The window says "Clothes To Chill Not To Kill" and then lists the brand this is a promotion for "Botanika by Taishi Nobukuni".
If you don't know Taishi Nobukuni, you should. The man is a legend of Japanese fashion design. He's been involved with several important brands, not the least of which is Takeo Kikuchi. His own brand, 13, has a shop in Aoyama, and he more recently launched his new brand Botanika, which Loveless is promoting in this window display. More on Nobukuni later — for now, just dropping the photo for your viewing pleasure.