Christofle x Hello Kitty
While walking in the Aoyama area of Tokyo a few weeks ago, I noticed that the jewelry store Christofle on Aoyama Dori was all covered in Hello Kitty. The sign above the shop now says Christofle x Hello Kitty. I didn't have time to check out what exactly the collaboration includes, but presumably it's some Kitty jewelry or silverware or other home goods created by the Christofle brand.
The Christofle shop in Aoyama decorated in pink Hello Kitty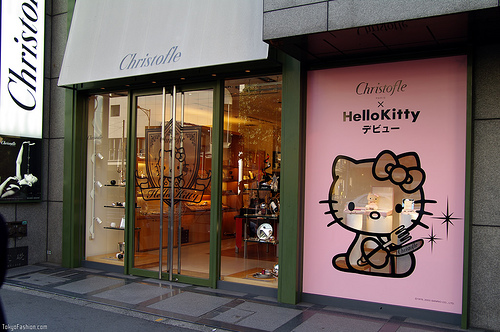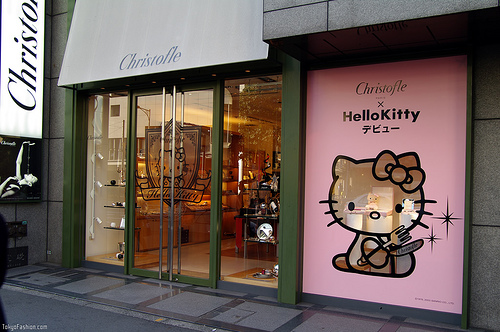 Christofle is a Paris-based French silver jewelry company that dates back to the middle of the 19th century, according to their website. When you read the history of the company, they don't exactly sound like the type of company that would be doing a collaboration with a cute Japanese cartoon cat-girl.
Hello Kitty isn't just any cartoon cat, though. Kitty has a direct line into the hearts of many Japanese girls and women. That instant connection with consumers is something that every brand – especially and international brand trying to find a foothold in Japan – is looking for.
Just a few days ago we posted information about the upcoming MAC Cosmetics x Hello Kitty collaboration coming next year. The MAC collaboration is using Kitty to attract North American consumers who love Japanese pop culture, proving (once again) that Hello Kitty is a money maker no matter which way you look at her.
What: Christofle Aoyama
Where: Aoyama Dori between Omotesando Station and Shibuya Station
Address: 3-6-20, Kita-Aoyama, Minato-ku, Tokyo, Japan
Phone: 03-3499-5031
Map: Map Coming Soon
Website: Official Site