Collect + Point Harajuku Opening Day Pictures
As we reported previously, the new Collect + Point Harajuku flagship shop opened on Friday.
The shop is a showcase for some of the Japanese fashion brands owned by Point Inc., including Lowry's Farm, Apart by Lowry's, RageBlue, Jeanasis, Heather, Hare, and Trans Continents. The new store occupies the ground and second floor of an impressive new glass fronted building on Meiji Dori, across from the LDS (Love Drug Store) building and next to Ciaopanic.
TokyoFashion.com was on hand for the grand opening and, as promised, we've got some pictures to share with you.
The new Collect + Point building in Harajuku: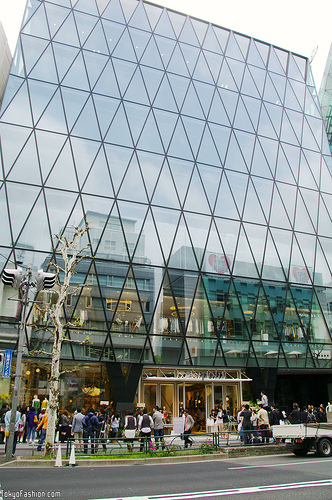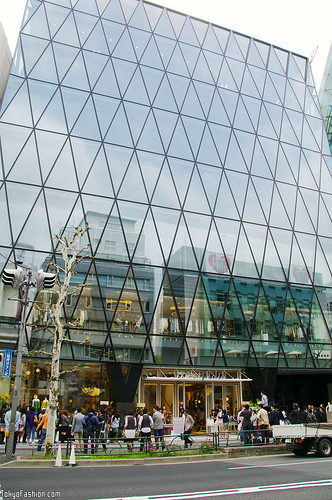 A crowd gathering in front of the store before the doors open for the first time:

Part of the line of Japanese girls and guys waiting to get in and buy some Lowry's Farm and other brand clothing:

The doors open and the crowd rushes in, while the Japanese fashion media takes pictures and video:

Collect + Point Harajuku staff members standing in front of the grand opening flower stands:

Every customer who waited in line at the opening got a free pair of limited edition pink Japanese underwear. These underwear were part of the Art Pants project that's been ongoing with several artists, illustrators, and personalities – but the pair given out at the opening was created just for Collect + Point. They feature a cute dog and some Japanese text on both sides of the panties.
Collect + Point x Art Pants pink panties:

You can see bigger versions of any of the pictures by clicking on them and blowing them up at our Flickr page.
On the same day as this grand opening, Topshop had the debut of the new Kate Moss collection, and we got pictures from that as well, so watch for that update and more very soon!
More info: Official Store Website (Japanese)