Coming of Age Day 2011 – Tokyo Kimono Pictures
The second Monday of January each year marks the Japanese holiday Seijin no Hi, known as "Coming of Age Day" in English. On this day, Japanese people who have turned 20 years old within the last year celebrate their graduation to adulthood. Those celebrations often include a ceremony at a local ward office, a trip to a local shrine, and late night parties with friends and/or relatives.
The coolest aspect of the holiday for Japanese fashion fans is that many young Japanese girls wear brightly colored furisode kimono to the daytime ceremony and shrine visits. That means that Coming of Age Day is one of the only days of the year that you are likely to see large number of young people in Tokyo wearing traditional kimono.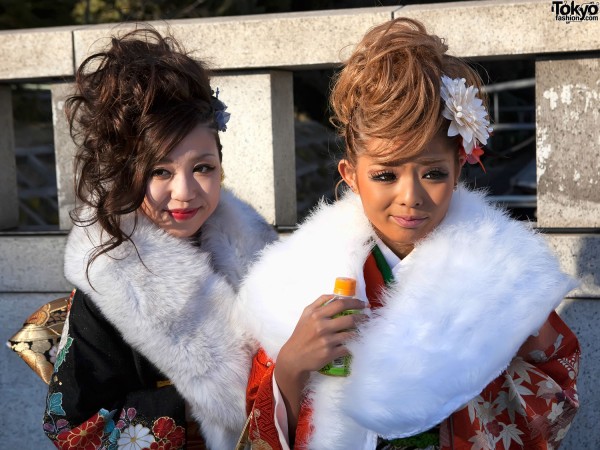 This year, Coming of Age Day fell on Monday January 10, 2011. We always enjoy this holiday, because it's so rare to see Japanese people in traditional clothing around Harajuku and Shibuya, the youth-centered neighborhoods where we spend most of our time. Of course we see yukata around hanabi time of year, but full-on kimono are just not a normal wardrobe item for young Japanese. As usual, we were delighted to see plenty of Japanese girls in brightly colored furisode kimono walking around Takeshita Dori and other areas of Harajuku – either in groups of friends or with their families.
Camera in hand, we headed for Tokyo's most famous shrine, Meiji Jingu, to see if any of the beautifully dressed girls celebrating Seijin no Hi would be willing to pose for a few photos. Luckily, we found plenty of friendly smiling 20-year-old kimono-clad volunteers. Please enjoy these pictures of Coming of Age Day 2011 in Harajuku and remember that you can click any of them to see high resolution versions!
Click any of the photos to enlarge them.
On a personal note, we want to send a big congratulations to Tokyo Fashion team member Momo, who celebrated Coming of Age Day today as someone who turned 20 in the last year! Please follow Momo on Twitter to help her celebrate. :-)
If you want to see more pictures of girls in kimono, we also took some last year during Coming of Age Day 2010.