Comme Ca Shinjuku – Sumiko Window Display
This is just a quick update with a cool shop Tokyo fashion shop window display. The Comme Ca shop in Shinjuku is one of the consistently coolest rotating shop windows in Tokyo. There have been lots of amazing window displays in this store over the last few years. Regardless of what you think of Comme Ca clothing, you can't help but love the store window!
Here is a photo of the Comme Ca Store window on November 4, 2008: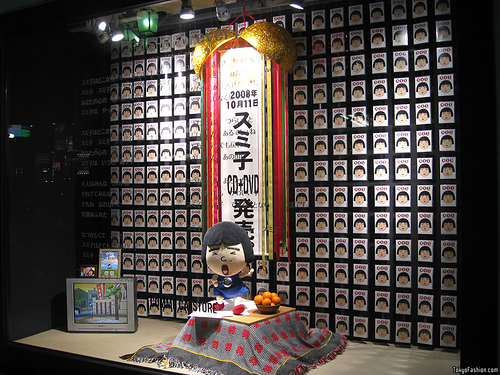 The display is for some collaboration with a Japanese anime character called Sumiko. On the actual window is written, in Japanese, the lyrics to some cartoon song that is playing constantly as you walk by the window – and tens (or hundreds) of thousands of people walk by this window every day.
In case you want to check it out while you're in Tokyo, here is the info:
Name: Comme Ca Store Shinjuku
Address: 3-26-6 Shinjuku, Shinjuku-ku, Tokyo
Phone: 03-5363-3393
Nearest Station: It's right outside of the East Exit of Shinjuku Station
Map: Will post a map link soon!
I will try to keep a running update on the window displays at this shop with photo updates once a month or whenever they change it.