Dazzy Store: One Stop Shop For Tokyo Hostesses
All hail Tokyo's hard-working hostesses! Marvel at how they push clothing and make-up to the limit in order to bring fantasy to life! Be dazzled by the overwhelming visual power of their sparking attire and accessories!
Okay, so not everyone shares my admiration of hostess and kyabajyo ("cabaret girls"). Think what you will about the idea of women paid to provide men with drinks, conversation, and companionship (of the non-sexual variety, it should be noted). But the hostess club industry has substantial cultural roots in Japan and revolves around a unique and colorful world of fashion all its own.
Thousands of hostess clubs exist in the Tokyo area alone. The most elite and expensive ones are located in the Ginza and the Tokyo Midtown districts. Meanwhile, Shinjuku's sleepless Kabukicho district offers so many clubs that an entire cottage industry has sprung up around them. Kabukicho's back streets are filled with stores that cater exclusively to hostesses – including open-all-night hair salons, photography studios, and numerous boutiques that sell the gorgeous long dresses and shorter party dresses that form the backbone of a hostess's work uniform.

With a retail store located in the heart of Kabukicho, Dazzy Store bills itself as the "No. 1 dress store". They carry everything from 450 yen nude bras, to elaborate wigs and hair extensions, and (of course) fake eyelashes aplenty. In order to give you a better sense of what hostess fashion is all about, here's a breakdown of the current top 5 best selling items at the Dazzy Store's online shop.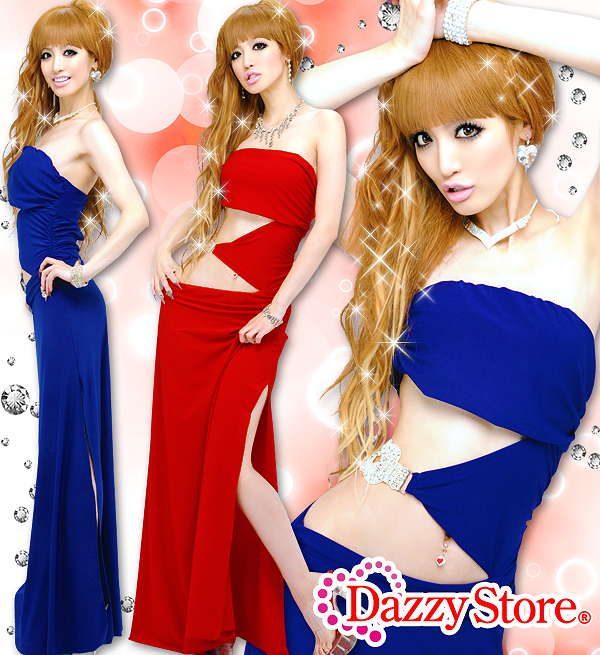 The most popular item at Dazzy Store is the "Giri Giri SEXY Saizensen" ("Cutting-edge Outer Limit SEXY") slit long dress. A bold and eye-popping creation that exposes dangerous curves with the help of a blinged-out belt, it is available in four colors of 3,980 yen. The model is Sayo Hayakawa, a face familiar from that bible of style for "little devils", Koakuma ageha magazine. Dazzy Store advertises heavily in the pages of this publication, shares models, and even bills their web store as a "Koakuma dress online shop."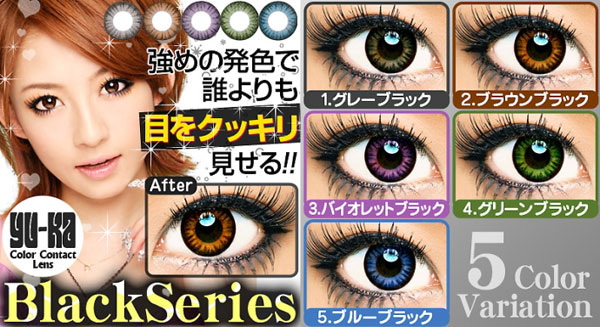 The number two ranked item may not be an article of clothing, but it is still an indispensable part of a hostess's beauty arsenal: color contacts! Dazzy Store offers multiple variations – including colors such as dark grey, bright brown, sunset violet, ash green, and aqua blue – of YU-KA brand reusable lenses for 2,980 yen per pair. Approved by the Japanese Ministry of Health (I am not making this up)!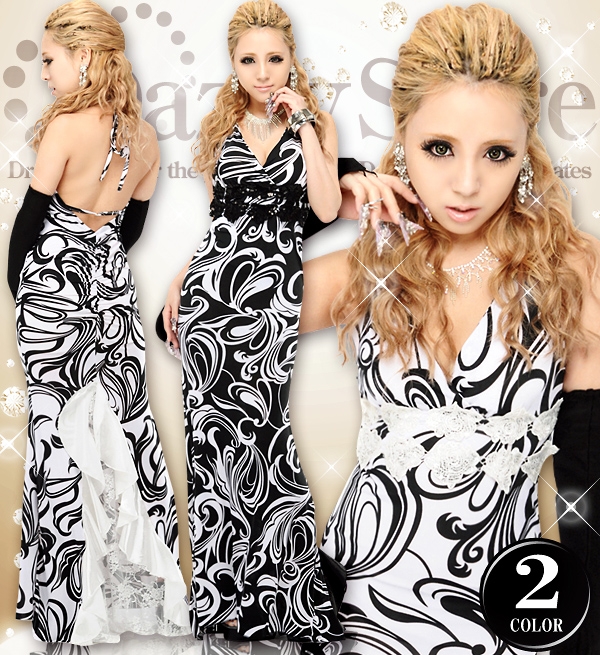 Number 3 is another long dress stunner called "Kira Kira Rose" ("Glittering Rose"), available in black and white variations for 3,980 yen. Dazzy Store's product description notes that the high-waist can help give the impression of longer legs (something body-conscious hostesses tend to covet) while the open back features ruffled highlights at the bottom. It is modeled by Rina Sakurai, another Koakuma ageha regular who keeps busy with a singing career, acting work, and by making recent appearances as herself in full hostess regalia in Sega's YAKUZA video game series.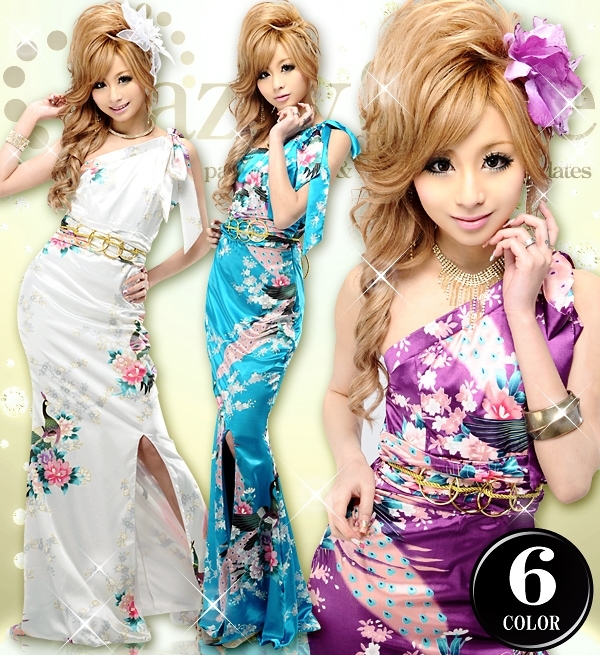 Long dresses with traditional Japanese motifs are popular at hostess clubs, which helps explains how this one-shoulder "Oiran Bijin" ("Beautiful Courtesan") slit dress made 4th place on the ranking. Available in six colors – and awash in details ranging from birds of paradise to blooming flowers – it connects the world of the modern day hostess to the sexuality and theatricality of the oiran courtesans who predated the geisha during Japan's Edo period (1600–1868 A.D.). All this for a mere 3,980 yen…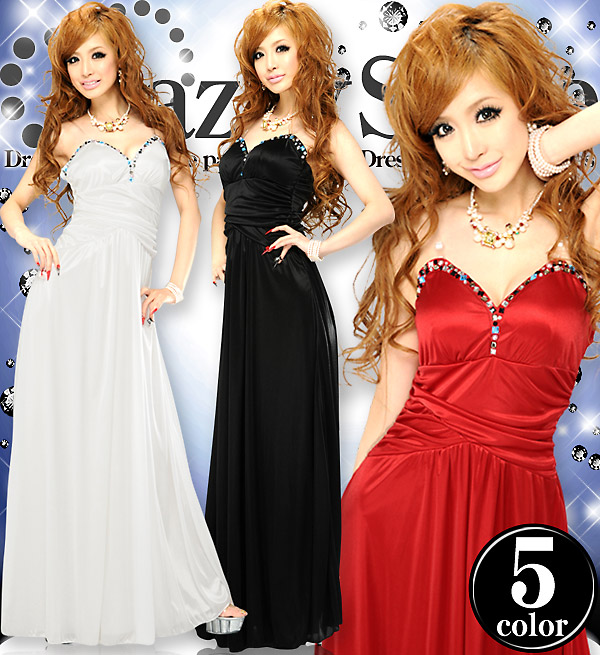 The irrepressible Sayo Hayakawa is back to model the final item in the dazzling Dazzy Store top five: "Number Jyo no Hinkaku" ("Prestigious Number Girl"); a long dress made of stretch satin with a shining waist available in five colors for 3,980 yen. Fun fact: a "number jyo" is a hostess in the running for a club's coveted "number one" spot; a position based on popularity and earnings. One figures this dress will at least give you a shot at the title, especially when paired with the hairstyle, makeup, clear heels, deco nails, and the proper set of color contacts displayed here.
External Link:
Article by Patrick Macias, photos courtesy of Dazzy Store.
About the author:
Patrick Macias is the owner of media company jaPRESS and the author of "Japanese Schoolgirl Inferno: Tokyo Teen Fashion Subculture Handbook" (Chronicle Books). He has written for a variety of publications in the US and Japan including Wired, Studio Voice, and Weekly ASCII. His blog can be found online at patrickmacias.blogs.com.