Discovered 2011 S/S Collection
The 11th Japan Fashion Week in Tokyo is happening! Several times each day, TokyoFashion.com's contributors are reporting back from runway shows all over town. We'll be posting pics and updates from the events and shows as we receive them, so keep checking back for more JFW fun and fashion.
On Tuesday, October 19th, Japanese label Discovered showcased their 2011 Spring/Summer collection on the runway at roomsLINK in Harajuku. Compared to their recent collections, Discovered mixed a lot more colors and patterns into this young-feeling menswear show.
Discovered was founded in 2001 by Tatsuya Kimura and Sanae Yoshida. The original concept for their menswear collection was a "real clothes" aesthetic with sleek lines and monochromatic palettes. They also enjoy juxtaposing contradictory themes – such as in their 2010 A/W collection show, in which delicately faced models were dressed in tough-looking ensembles.
Please click the thumbnails below to check out the full sized versions of all of the pictures for yourself.
Discovered 2011 Spring/Summer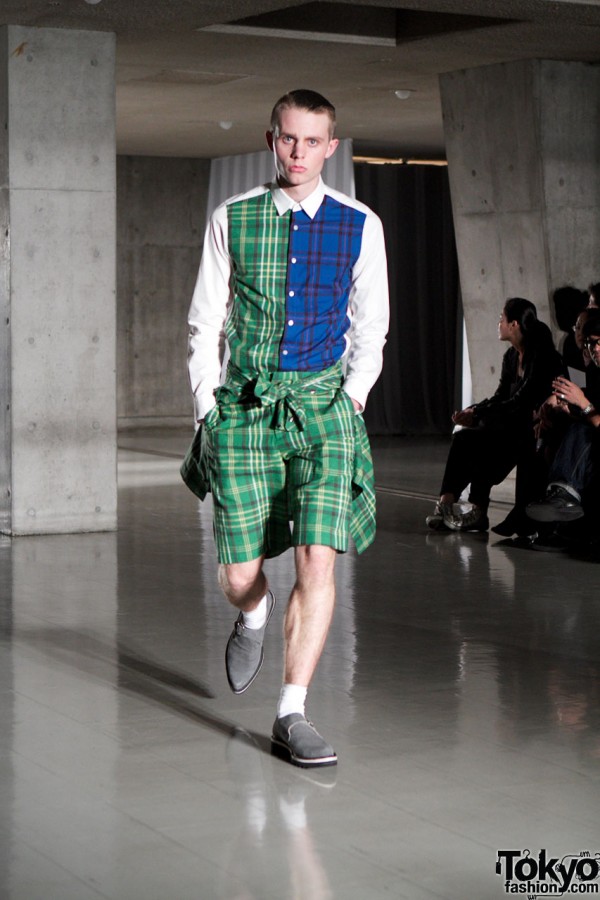 Click any of the pictures to enlarge them.
External Link: Discovered Official Website
About the photographer:
As long as he is behind his camera Will is a happy man. He has photographed everything from the slums of Bangkok to the catwalks of Tokyo. He is a contract photographer for Lonely Planet, his images and photo essays have appeared in Time Out, The Japan Times, Sportswear International and a variety of other newspapers, magazines and guidebooks around the world and his photo essays from Iraq for The Griffith Review even earned him a mention in the Australian book review of the year in 2006. In addition to his media related work, Will also shoots events, portraits, weddings and the occasional CD cover. Whatever he's working on, he always writes about his jobs and how he goes about them at Will Robb Photography.