Forever 21 Coming To Harajuku in April 2009
A few weeks ago, we mentioned that the American fashion brand Forever 21 has launched a new line of Shibuya-inspired clothing. Now we find out that Forever 21 is opening it's first shop in Japan in April in Harajuku. The company is either taking over the old New Balance Harajuku building (New Balance moved up to Aoyama), or putting up a new building in that same location.
Right now, there is a lot of construction going on at the site of the new shop. A big billboard advertising jobs at the store has gone up recently on the outside of the construction barrier.
Girls walking by the under-construction Forever 21 store in Harajuku: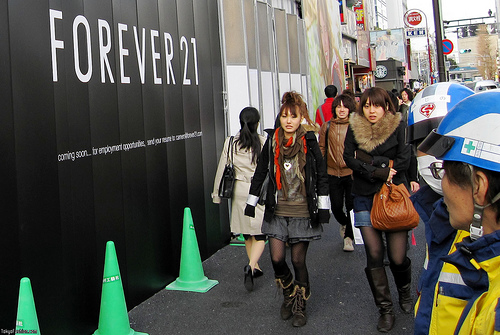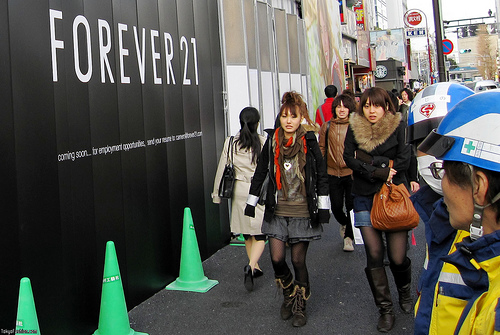 The old New Balance building – or the new Forever 21 building?

According to a recent article in WWD, the new Harajuku Forever 21 shop will open on April 29, 2009. The brand opened stores in China, Thailand and South Korea last year and hopes to conquer Japan this year.
The timing is a bit bad with the economy crashing, but like H&M Harajuku next door (the buildings are literally right next to each other on Meiji Dori), Forever 21 is not a super expensive brand, so possibly the bad economy could help them to pull in some Japanese fashion shoppers who are looking for lower price alternatives to the high end international brands that currently exist in Tokyo.
As mentioned in our previous articles, one of the funny things about this move is that Forever 21 and Gwen Stefani's company are involved in a lawsuit related to the Harajuku Lovers brand (the brand that Stefani launched to try to cash in on the existing cred of the "Harajuku" name). Forever 21 will actually have a flagship shop in Harajuku while they are being sued by Harajuku Lovers.
Tokyo Fashion will try to keep you up to date on Forever 21 news in Japan and we'll try to get some pictures from the opening in April.