Forever 21 Harajuku Opens Next Week
Just a quick update with some new pictures of the progress of the Forever 21 Harajuku shop that is opening next week. We posted an item about this first ever Forever 21 Japan store back in February. Since then, they've done a lot of work on the old New Balance building to make it their own.
Here are a couple of pictures of Japanese construction crews working away on the new Forever 21 building, getting it ready for opening day.
Workers taking a break in the window of Forever 21 Harajuku: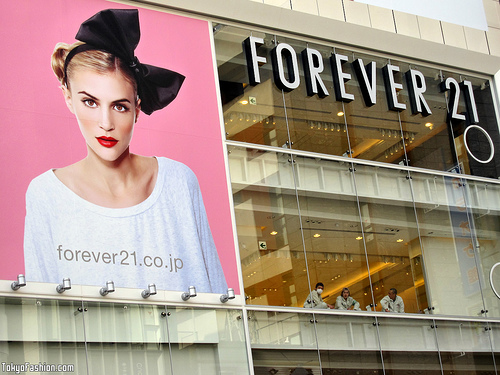 Workers on a ladder inside the store while two Japanese lolitas in pink walk by Forever 21 on Meiji Dori:

With the opening of their first Tokyo shop only about one week away, Forever 21 has started promoting the date by having buses with their name and the date of the opening drive around Shibuya and Harajuku. Here is one of the Forever 21 promo vehicles driving in front of Harajuku Station.

(For bigger versions of any of these pictures, click on over to the Tokyo Fashion Flickr page where you can blow them up!)
Opening day is next Wednesday, April 29, 2009. It's during Golden Week in Japan, assuring that the most possible people can be there. Besides the Japanese Forever 21 fans, Tokyo Fashion will also be on the scene on opening day with our camera in hand, ready to report back here with pictures. Will this opening have the excitement and long lines that H&M did? We'll find out soon.
Check back next Wednesday for a report from the grand opening.