Forever 21 Launches Shibuya Mon Amour
In the latest move by non-Japanese companies to capitalize on the coolness of Tokyo fashion, the popular American clothing brand Forever 21 has launched a line of clothing called Shibuya Mon Amour. On their website, it says that it's a combination of Shibuya style and Paris style. So far, the line mostly seems to be based around some print t-shirts.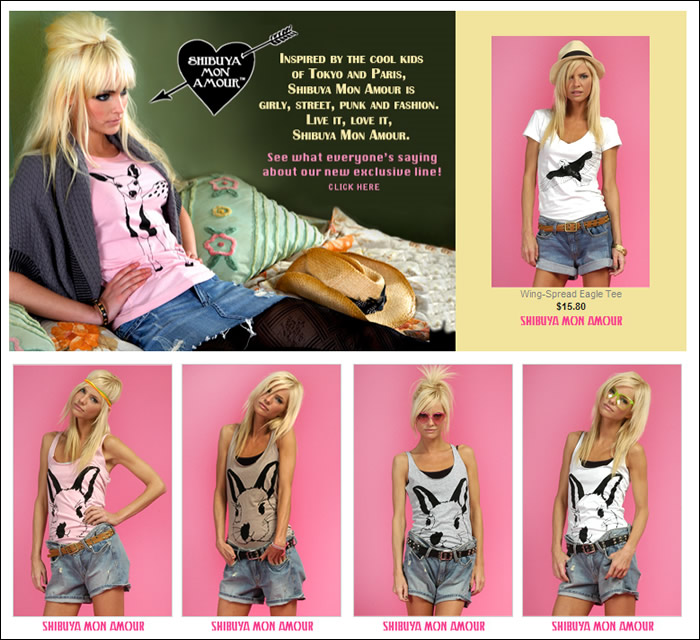 One of the interesting things about this move is that Forever 21 and Gwen Stefani's Harajuku Lovers brand are locked in a legal battle right now over some trademark and/or copyright issues. Besides capitalizing on the coolness of Shibuya, maybe Forever 21 see this as some way to punch back at Gwen? Maybe that's got nothing to do with it, but it's a strange coincidence.
If you read some of the fashion blogs out there, it's pretty clear that Gwen Stefani has been embarrassing the cool kids in Harajuku for a few years now with her attempt to cash in on the area's name, so maybe it's time that someone hit Shibuya. Who will be the first to claim Ikebukuro and Daikanyama? Will international brands eventually have to resort to naming their clothing lines after obscure near-Tokyo cities like Tsudanuma? We'll find out in the next episode…
You can check out the official Shibuya Mon Amour brand website here.