Fuji Rock 2009 T-Shirts at Parco
The 2009 edition of Japan's famous Fuji Rock summer music festival doesn't start until the end of next month, but the t-shirts for the event went on sale this weekend in Tokyo at a special popup shop in front of Parco Shibuya.
Fuji Rock 2009 will feature performances by Public Enemy, Oasis, Royksopp, Weezer, Franz Ferdinand, UA, Jimmy Eat World, Simian Mobile Disco, 80Kidz, and about a million other bands. If you've never been, the vibe at this show is unlike any other in the world. It's in the beautiful mountains of Japan, and you're surrounded by green forests while rocking out with 100,000 of the most friendly and cool people you'll ever meet.
But enough about the actual Fuji Rock Fest, this Tokyo Fashion update is supposed to be about the special Fuji Rock popup shop at Parco Shibuya this weekend. The popup shop is there for the weekend only, and it's the first time that the t-shirts and other goods for this year's festival have been offered for sale in Tokyo.
Because Fuji Rock is a cool fest, it attracts cool designers and fashion brands to collaborate on the t-shirts. Perhaps the most notable t-shirt designer from last year, Tokyo-based Rockin' Jellybean, has returned with some new shirts for 2009. Rockin' Jellybean has worked with many Japanese and international brands including Billionaire Boys Club and has a crazy shop of his own in Tokyo called Erostika, which is a mix of fashion, art, erotica, and madness.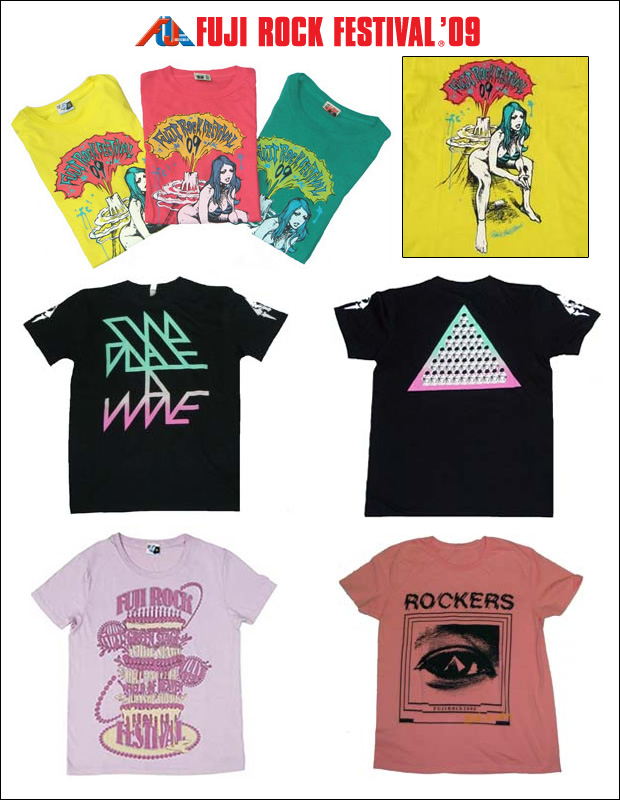 Other 2009 Fuji Rock t-shirt designers include TYO EMPIRE and Super Me Inc. Like Rockin' Jellybean, Atsushi Yamaguchi / Super Me Inc. has worked on past FRF projects, as well as collaborating with a lot of hipster Japanese brands, including Hare, Final Home, Beams, Moussy, Sunao Kuwahara, etc.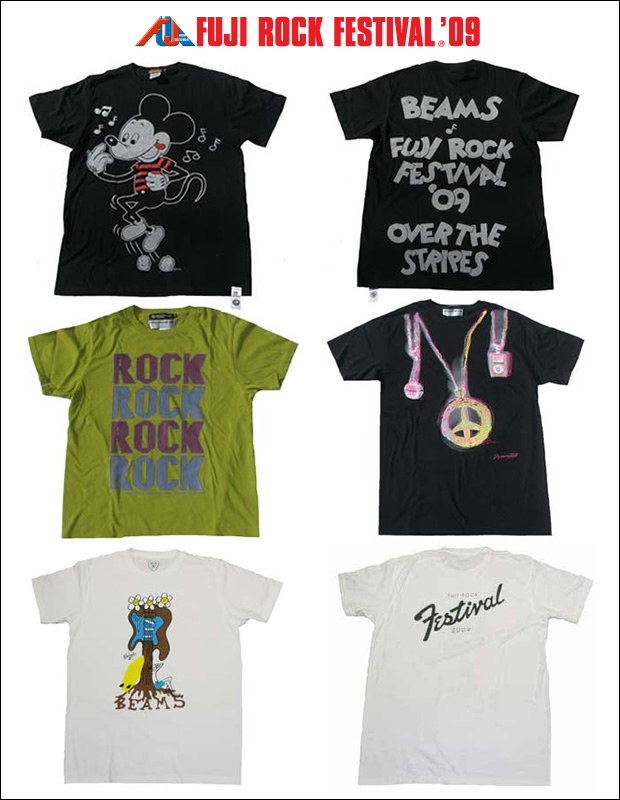 Besides the official FRF goods, there are a number of Japanese brands who are doing their own co-branded shirts for this year's Fuji Rock. So far, the brands that have been announced include Hysteric Glamour, Beauty & Youth, and Beams Japan. The Beams project is a three way collaboration that includes Beams, Mickey Mouse/Disney, and Fuji Rock. Oshman's Japan and Tower Records are also producing some items, though we're not sure yet if those are t-shirts or other accessories. The prices of the Fuji Rock t-shirts run from around 3500 yen all the way up above 5000 yen (about $US40-50 each).
Here is an official promo flier for the show, in case you want more info on who will be there, when it's happening, etc. The price of tickets for all three days is pretty crazy at around US$400, but it's worth it.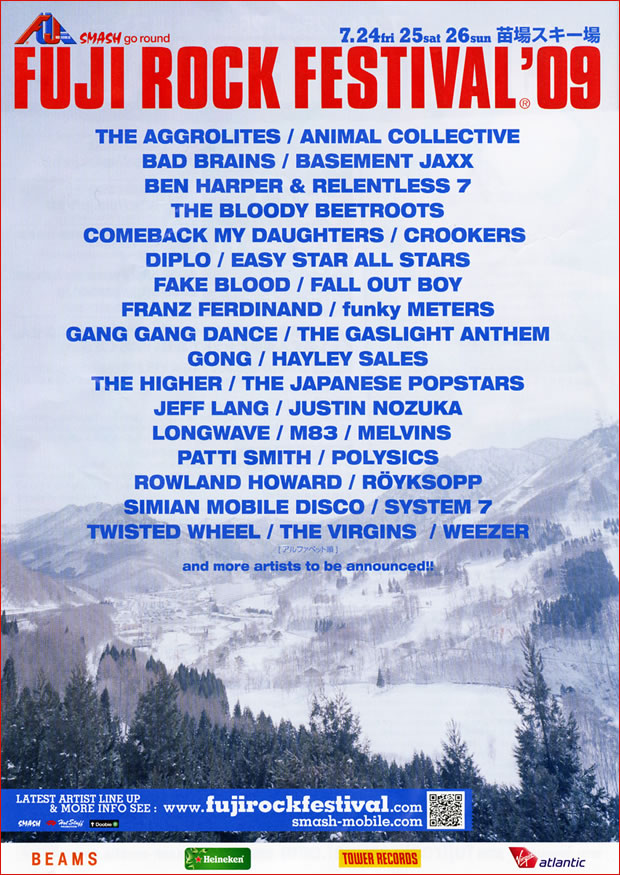 All of these shirts are produced in limited quantities, but they usually don't start selling out until the first day of the festival, so you don't have to hurry too much this time. If you can't make it to Parco, you can also order most of the shirts online – if you can read Japanese.
External Links: