Girls' Doors Shibuya – New Shop
In June of this year, the Japanese girl's clothing brand LDS (Love Drug Store) opened a new shop / brand on Spain Zaka in Shibuya. This new LDS sub-brand is called "Girl's Doors" and the theme is "Girl's Fantasy". According to the website of their parent company, that "fantasy" apparently refers to the fantasy of every Japanese girl to be hip and cool with the latest season's trends in fashion. Even more than the already trendy LDS shops, the Girls' Doors shop seems to be targeted at those girls who need to keep up with the latest constantly changing Japanese fashion trends.
Again, according their website, the demographic for Girls' Doors is 20-28 year old Japanese females. They say that 80% of their clothing items are imported and 20% are produced in Japan. The prices in the boutique are listed as around 5,000 – 15,000 yen (US$50-US$150) for clothing items, and less for accessories. The shop carries all of the womens clothing items you would expect including shirts, pants, jackets, shoes, boots, hats, bags, belts, stockings, and other accessories – with styles changing often depending on the trend of the current season.
Here are a couple pictures of the new Shibuya shop: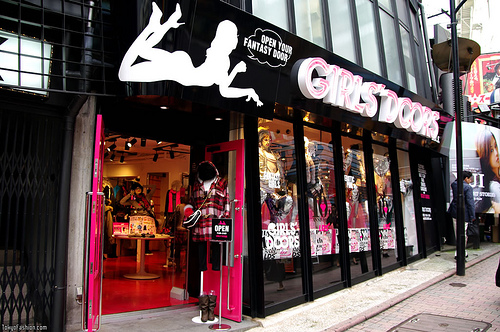 Because this shop is located in the center of Shibuya's trendy shopping area (near Parco), it seems to cater to the "cool" Japanese girls, including gyaru / gals and various different stylish Japanese fashion subcultures. This fall 2008 season, they have a lot of "folklore" fashion items, which all of the girls in central Tokyo seem to be wearing.
What: Girls' Doors by LDS
Where: Shibuya on Spain Zaka
Address: 13-17 Udagawa-cho, Shibuya-ku, Tokyo, Japan
Phone: 03-5459-1156
Hours: 11:00 – 21:00
Map: Spain Zaka Shops
Website: Official Site (Japanese)
Nearest Train Station: Shibuya Station
I am posting this in the "new shop" updates, even though the shop officially opened a few months ago – sorry!