Gothic and Lolita Psycho Movie Review & Event
The Gothic Lolita fashion of Victorian-inspired lace skirts, parasols and doll-like makeup is no longer confined to fashion devotees milling about outside Harajuku station on a Sunday, or the pages of Gothic & Lolita Bible, the magazine which sets the standards of the subculture. Now the look that emphasizes the innocence a child and the fragility of a porcelain figurine has been adopted by a vengeful action hero in Gothic & Lolita Psycho, the latest film by director Go Ohara. "I was trying to think of a theme for an action film that would have an edge that would really appeal to Western audiences," the filmmaker explains, "and Gothic Lolita as a cult subculture of Japan came to mind. I also really liked the impact of the title 'Gothic Lolita Assassin' (the title of the film in Japan), and thought it would have broad appeal outside Japan as well."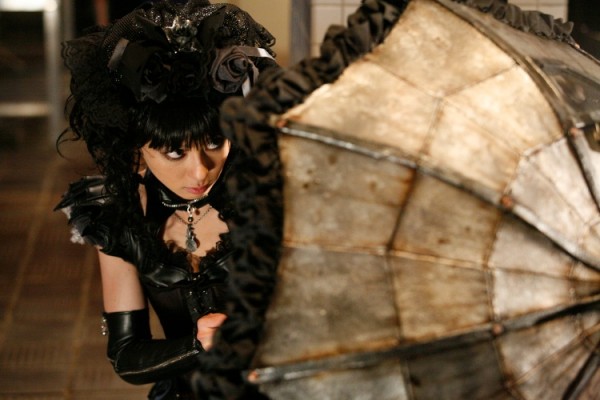 Ohara and several stars of the film greeted the audience before a recent screening at Shibuya's Theater N, an event to which many fans showed up in full Gothic Lolita attire, while other movie-goers sported splatter film T-shirts, underlining the dual nature of the movie's demographic. So many movie geeks and fashionistas are rarely under the same roof.
The new film stars Rina Akiyama as Yuki, a loving daughter with conservative fashion tastes who adopts full gosu-loli regalia in order to fortify herself on her mission to exact revenge on a group of conspirators with supernatural powers who killed her mother. In Japan, where awards are bestowed upon celebrities for nearly any topic imaginable, Akiyama won the "Best Buttocks" award in 2007, which lead to her appearing a series of best-selling swimsuit photo books featuring her showing off her best side, and earned her the nickname "The Queen of the Beautiful Ass." In Gothic & Lolita Psycho, Akiyama is not displaying butt, but kicking it. As Yuki, she brandishes a number of different black lace parasols, a cornerstone of the Gothic Lolita look, only hers are custom-fitted with spring-action bayonets, spinning knives, bullet-proof shields and automatic machine guns.
Director Ohara got his start as a stuntman before moving on to choreographing the action scenes in other filmmakers' projects, finally making his directorial debut in 2008 with Geisha Assasin, in which he took another archetype of Japanese femininity and transformed it into a bad-ass killer. Ohara's skills in staging high-octane action scenes are on full display here, as Yuki battles, one-by-one the five people who mysteriously stormed into her home during a party for her birthday, attacked and crucified her mother, and crippled her Christian priest father. Yuki first hunts down a yakuza moll (Minami Tsukui) who enjoys chopping of heads with samurai sword before she is dispatched herself. Later she stalks a lecherous high school teacher to a gymnasium for a mind-boggling wire-fu fueled fight. Ohara also enlists the help of gore effects wizard Yoshihiro Nishimura in order to add lots of bright-red splatter to the action.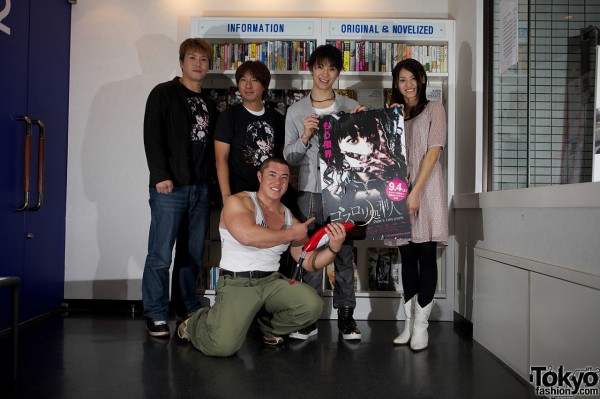 By far Yuki's best-drawn adversary is Lady Elle (Misaki Momose), a school uniform-wearing, over-tanned, bleached-blonde Shibuya gyaru—the sartorial apotheosis of the Gothic Lolita style. Elle brandishes not one, but two mobile phones, which also double as pistols, daggers and deadly boomerangs, and in true gyaru fashion, she does not let a trivial distraction such as a battle to the death stop her from answering a call from her boyfriend. Tarantino tried, in Kill Bill, to appropriate the Japanese schoolgirl aesthetic and apply it to a ruthless killer, but he got only the look, not the attitude or demeanor, which Gothic & Lolita Psycho gets pitch-perfect.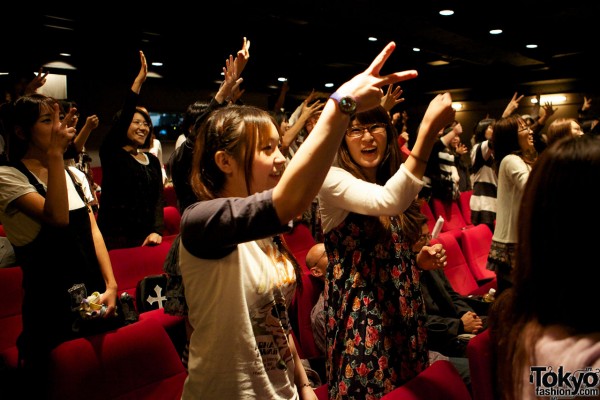 The Gothic Lolita style is not unknown outside Japan. The appropriately-named Gothic & Lolita Bible has been published in an English-language version since 2008, and at anime conventions around the world there are sightings of international Lolitas, often sporting clothing made themselves, or adapted from off-the-rack clothing, as they do not have easy access to Japanese brands. As Gothic & Lolita Psycho was conceived specifically to appeal to audiences outside Japan, we can only expect the look to become even more popular around the world.
Check out our exclusive gallery of photos from the screening of the 'Gothic & Lolita Psycho' in Shibuya – where the stars and filmmakers attended and answered questions from fans. You can click on any of the pictures to see them in high resolution.
The official website for the "Gothic and Lolita Psycho" movie is here (in Japanese).
______
Article text by Kevin Mcgue.
Photo credit for PR stills: ©2010「ゴスロリ処刑人」製作委員会
All other photos by Will Robb.
About the photographer:
As long as he is behind his camera Will is a happy man. He has photographed everything from the slums of Bangkok to the catwalks of Tokyo. He is a contract photographer for Lonely Planet, his images and photo essays have appeared in Time Out, The Japan Times, Sportswear International and a variety of other newspapers, magazines and guidebooks around the world and his photo essays from Iraq for The Griffith Review even earned him a mention in the Australian book review of the year in 2006. In addition to his media related work, Will also shoots events, portraits, weddings and the occasional CD cover. Whatever he's working on, he always writes about his jobs and how he goes about them at Will Robb Photography.