Harajuku Fashion Party Pictures from "MEtA x Heavy Pop" in Tokyo
The Harajuku-themed "MEtA x Heavy Pop" party took place in Tokyo this week. Organized by the Japanese photographer Ray Ochiai, Heavy Pop parties feature kids from the streets of Harajuku DJing their favorite music – along with lots of Harajuku fashion, live painting, indie designers selling handmade goods, live performances, amateur idols, and tons more fun stuff! The Spring 2013 edition was a collaboration between Heavy Pop and Mimeko of the Japanese fashion brand MEtA.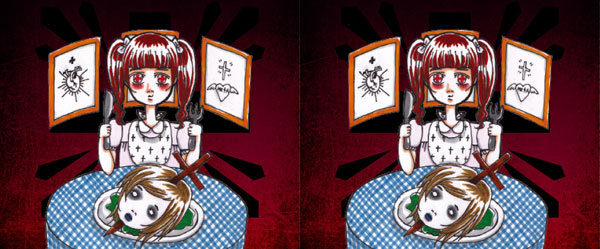 Mimeko, the co-organizer of this party, is the Japanese fashion designer behind the indie accessory brand MEtA. Mimeko is famous in Harajuku for her creepy kawaii necklaces featuring crosses made out of doll parts and flowers, fuzzy crosses with googly eyes, and more born-in-Harajuku madness. Her accessories have been featured in countless Japanese fashion magazines and her celebrity fans include no less than Kyary Pamyu Pamyu herself.
The MEtA x Heavy Pop party's lineup featured many names familiar to fans of Harajuku street fashion:
Live: Dance & Guitar Show by Yuriko Tiger & Kensuke (BROKEN DOLL), M&T from OVERZERO
DJ: mimeko & kyannna, JUNNYAN + Kifujin, DJ tAk, Majotasu (mmts + JoKEЯ), [Sanctuary/SweetDreams], Misery*Candy, Senanan & Monta, machico, Tanaka, Ray Ochiai
Shops: MEtA, Kanojo, Carlotta, BERRY little, freckleat, COSMIC magicals, BROKEN DOLL, March, Sorusie-re, IChigoUsagiByou, Kumamiki
Live Painting: Kurage VJ: rxsxhxc Floor Dancers: Kimaira, Temimi, Michell, KURAU
Staff: 763 (Narumi) Organizers: Mimeko & Ray Ochiai
In addition, we spotted Kera Magazine model Haruka Kurebayashi in the crowd! Enjoy our pictures from the party, and we hope to see you at one of the Heavy Pop parties in the future!
MEtA x Heavy Pop – Harajuku Party Pictures
Click on any of the MEtA x Heavy Pop party pics to enlarge them!
A big thank-you to Ray Ochiai and Mimeko for all of the fun. Check out Ray'sofficial website if you're interested in attending a Heavy Pop party in the future!
Photos by Daishi.
***
About the photographer:
Daishi Hamada is a Japanese photographer and musician who specializes in band photography in Tokyo. You can find out more about him and see more of his work at his official website.