Heavy Pop Summer 2012 – Japanese Fashion, Music & Fun Party Pictures
"Heavy Pop" is the name given to a series of parties in Tokyo that focus on kawaii Japanese fashion, music, art, performance, and fun. The core of the Heavy Pop parties is the DJ booth, where personalities from the Harajuku fashion scene spin records all night. While the DJs are spinning, lots of other fun things are going on at Heavy Pop – including popup shops from indie fashion designers, idol performances, live painting, dancing, sweets-eating and more.
Tokyo Fashion has been covering Heavy Pop for a while now, and we were happy to be invited to their 5th party – Heavy Pop Summer 2012 edition!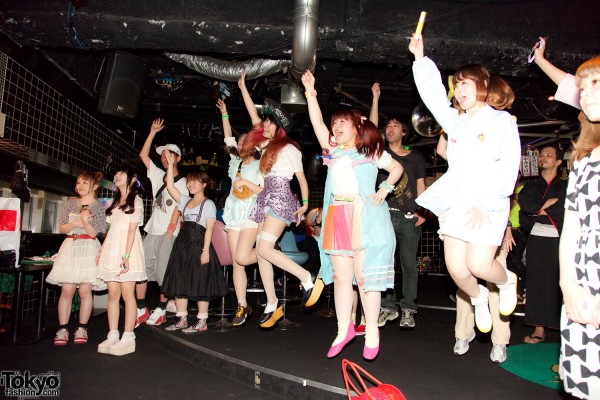 The performers list – as well as the crowd – at the summer Heavy Pop party was packed with people who you'll recognize from our daily Harajuku street snaps. If you'd like to party with these fun Harajuku kids in person, make sure you mark your calendar for the next Heavy Pop party on September 17th. In the meantime, enjoy our Heavy Pop pictures and check the bottom of the article for a list of DJs and more information!
You can click any of the Heavy Pop Summer 2012 party pictures to see them in high resolution.
Click any of Heavy Pop party snaps to enlarge them!
Here's a list of the performers, designers, artists, and others who were part of the Summer 2012 Heavy Pop Party (sorry for any English-translation errors):
Idol Stage
– Troupe Brioche
– Tsuchiya Hinano
– Rabbit (Usagi)
– Mizari☆Candy…Senanan&Monta
– Suage a.k.a Ameya & neo & Temimi
– F.17…Kanamin&Zumiho
DJ
– Yuko/Cyber Girl (Denno Shojo) [Rainbow (Niji)☆Ota!]
– Eritamu & Sachiko
– Choco/Conuts
– DJ Omamagoto… Honno & hamahamapun
– Esupi
– DJ Ribbon… Misaki & Kinoko
– F.17… Kanamin & Zumiho
VJ
– rxsxhxc
Live Event&Meeting Place Decoration
– Kyanna [Sorciere]
Indie Fashion Popup Shops
– MEtA (mimeko)
– Baishuba Kurau (KURAU)
– Sorciere (Kyanna)
– Hiroka Chiba
We'd like to send out a big "Thank You" to Ray (the organizer of the party) as well as all of the Heavy Pop guests and performers. We also encourage you to check out the party for yourself the next time you're in Tokyo!
For more information, check out the Heavy Pop official website or follow them on Twitter.
All photos by Daishi.
***
Daishi Hamada is a Japanese photographer and musician who specializes in band photography in Tokyo. You can find out more about him and see more of his work at his official website.