H&M Harajuku Opening Next Weekend
H&M Harajuku is coming! Next Saturday, November 8, 2008, the new H&M shop in Harajuku will open its doors. We expect long lines and a big party atmosphere on opening day, so TokyoFashion.com will try to get some photos. For now, they've got signs and billboards up on the building and around Harajuku.
The new H and M building itself is pretty cool and very tall, though we don't know yet how many of the floors are open to the public. The company calls the new Harajuku location the "Ice Cubes Building" and the upper floors look like ice cubes stacked on top of each other. It's hard to appreciate the building from up close, but from a distance, looking down from areas around Harajuku Station, it looks pretty cool.
Here are some pics from the week before the opening:
H&M billboard on the corner of Meiji Dori and Omotesando Dori: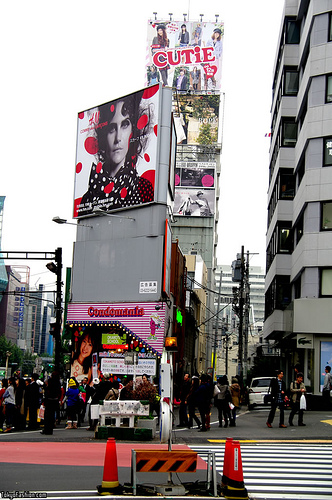 Giant H&M vs. Comme de Garcons billboards on the side of the new Harajuku shop location:

The upper part of the cool new H&M Harajuku "Ice Cubes" building:

If you are interested in hitting the store on opening day, here is the important info:
What: H&M Harajuku
Where: Meiji Dori next to the old New Balance building
Address: 1-8-10 Jingumae Shibuya-ku, Tokyo, Japan 150-0001
Hours: 11:00 – 21:00
Opening Day: November 8, 2008
Website: Official Site (Japanese)
Map: H&M Harajuku Map
Nearest Train Station: Harajuku Station
More updates on this one after the opening!