H&M Harajuku Opens Tomorrow
The new H&M Harajuku store opens tomorrow, Saturday the 8th of November, 2008.
TokyoFashion.com has been covering the countdown to the opening, so we decided to check and see if any of the Japanese H&M fans were lining up outside the store. The Ginza H&M location has had huge lines since before it opened and the live for the iPhone in Harajuku was really long in the days before it went on sale. We don't even need to mention the massive Krispy Kreme lines in Tokyo, even now, more than a year after the shops first opened. So, we know that Japanese consumers are willing to line up when they are excited.
When we went down to the H&M location today – surprise, no long line! There were maybe 5-10 people standing around outside, and a few camera crews, but nothing like what we've seen at some other big "event" opening. I was expecting a line that went around the building or stretched down Meiji Dori, but nothing of the sort. I'm not sure what to make of it. Maybe they aren't allowing early lineups until later in the evening (we stopped by in the afternoon), or maybe the earlier opening of the Ginza shop let Japanese H&M fans get their fix. Whatever the reason, there were no long lines less than 24 hours before the opening.
Here are a few pictures of H&M Harajuku the day before the opening:
People outside of H&M Harajuku the day before it opens: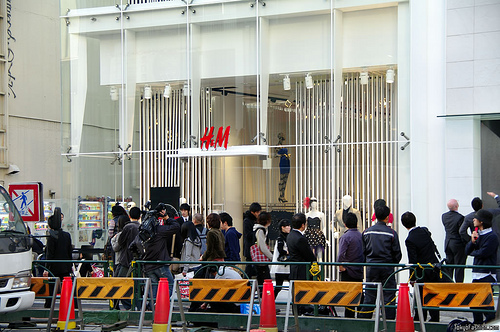 The less-than-big crowd outside of H&M Harajuku the day before the grand opening:

The Ice Cubes Building Harajuku, 24 hours until we can see the inside:

Tomorrow, Saturday, is the official opening of the H&M Harajuku store. We plan to stop by and take some photos and check out the scene, so check back then for updates.