Isetan Shinjuku Christmas 2008 Windows
It's late November and Christmas time has arrived in Tokyo – at least the Christmas promotion and sales have. Just about every major Japanese department store or major fashion retailer, as well as many of the indie fashion boutiques and select shops, have put up their Christmas 2008 decorations, window displays, and sale signs.
In the next few weeks, TokyoFashion.com is planning to do a photo tour of Shinjuku, Shibuya, and Harajuku to give you a peak at the 2008 holiday decorations and lights around the fashion centers of Japan.
In the meantime, here are a few cool picture of the windows of Isetan Department store in Shinjuku. This year Isetan is doing a "Letters of the Alphabet" theme, like those books that you read when you're a kid to teach you English – A is for Apple, B is for Boy, C is for Carrot, etc. Here are the A,B,C, and D Isetan window displays:
Isetan Shinjuku A Window (Dior)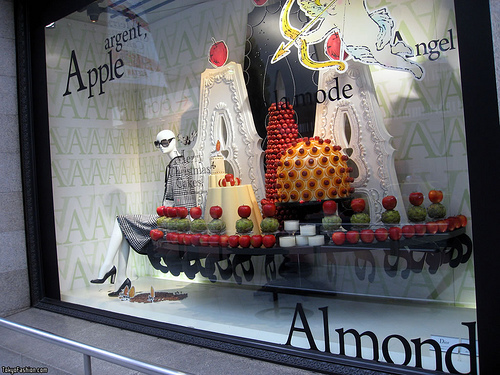 Isetan Shinjuku B Window (Dior)

Isetan Shinjuku C Window (Jill Sander)

Isetan Shinjuku D Window (Jill Sander)

The clothing brands in the windows are Jill Sander and Dior – neither of which is a Japanese brand, but Isetan is one of the coolest department stores in all of Japan, so I figured it's worth posting. Eventually, we'll post some feature articles on Isetan and Istean Men and all of the cool brands they carry in their various buildings in Shinjuku.
What: Isetan Shinjuku
Where: Near Shinjuku Sanchome Station, easily walkable from Shinjuku Station
Address: 14-1 Shinjuku 3-chome, Shinjuku-ku, Tokyo Japan 160-0022
Phone: 03-3352-1111
Hours: 10:00 – 20:00
Map: Isetan Shinjuku Map
Website: Official Site
Enjoy the X-mas windows and check back soon for more Tokyo Christmas photos.