Japanese Brand LDS Celebrates Obama Inauguration
As everyone in the universe knows, yesterday was the day that Barack Obama was sworn in as the 44th president of the United States. Wow. That's cool, but not really Japanese fashion related – or is it? Actually, it turns out that at least one very popular Japanese girl's fashion brand is celebrating Obama's inauguration with a big sale and some cool posters plastered all over the outside of their flagship store.
Which ultra-cool Japanese brand is supporting Obama? That would be LDS aka Love Drug Store – which is part of the Love Boat, Love Girls Market, Love Drug Store family of fashion brands. For the inauguration, their flagship shop on Meiji Dori between Harajuku and Shibuya was covered in posters with pictures of Obama and the message "Yes We Can" in bold text.
Love Boat / LDS Shop between Harajuku and Shibuya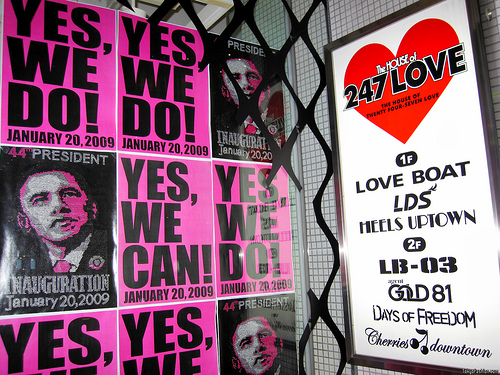 The LDS Brand LB-3 Shows Obama Some Love

Pink Obama Posters at LDS in Tokyo, Japan

Girls Save The World or Obama Saves The World?

Yes We Can, Yes We Do Love Boat Style

I'm not sure if they had any Japanese Obama related clothing or other goods inside of the shop, but it was cool to see them celebrating the inauguration even if it was a little hype-ish with the sale aspect. People all over the world are hoping for good things from Barack Obama – let's hope he can deliver on the hope he's brought to so many in Japan and everywhere else.
External Links: