Japanese Hair Show Pictures – Splash International 2012
Splash International is one of the biggest hair styling and hair coloring shows in all of Asia. The 2012 edition of the event was held in Tokyo in early March. Featuring stylists from both Japan and Korea – and with a special appearance by members of the K-Pop group T-ara – Splash International 2012 offered an amazing array of colorful and creative hairstyles that must be seen to be believed. This was our first time attending the event. To say that we were impressed would be a bit of an understatement.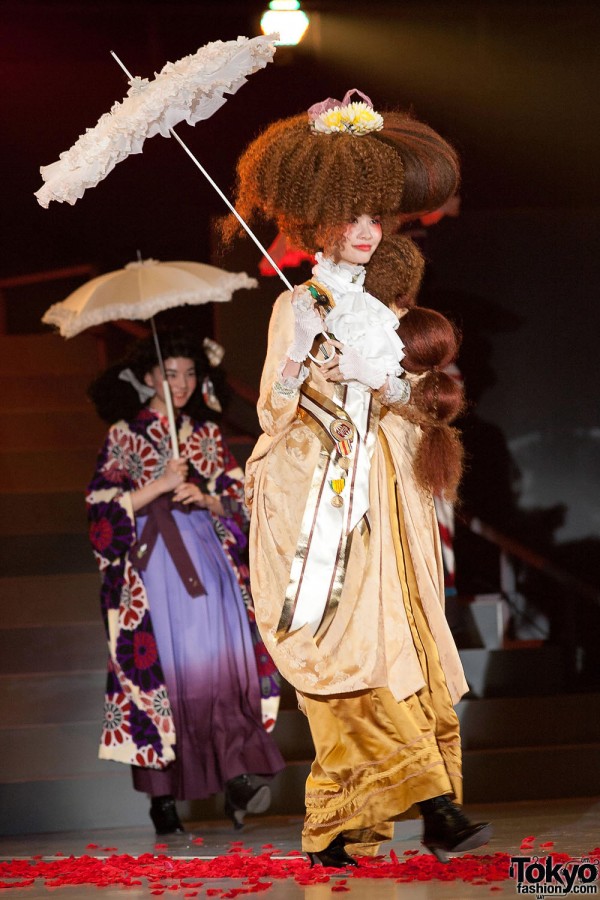 Splash International was launched as an annual hair styling and coloring event in 2009. The 2011 edition was cancelled because of the earthquake that stuck Japan. With the tragedy in mind, the organizers wanted to promote a bright future for Japan by making this year's event the biggest and best yet.
Splash International 2012 featured many of the top hair salons in Japan (afloat, BEAUTRIUM, DaB, Garden, K-two, Zacc, artifata, BLANCO, DADA CuBiC, kakimoto arms & MINX) as well as 3Story from South Korea. The participating stylists and colorists were encouraged to bring their most creative and forward-thinking ideas, and that's exactly what they did. Some of the designs looked like the belonged in an art museum – more "hair art" than "hair styling".
Besides the hair styling presentations, the even organizers also presented hair coloring awards. This year's honors went to the event's special guests K-Pop stars Qri and Soyeon of T-ara and Japanese model Kumiko Funayama.
Enjoy all of our Splash International hair show pictures. You can click on any of the images to see them in high resolution. More details about the event are included at the bottom of the article.
Click any of the Japanese hair show pictures to enlarge them.
Here is the Splash International 2012 program information, along with a list of participating Japanese and Korean salons, hair designers, stylists and colorists:
COLLECTION STAGES
Appearing on 3 stages will be 6 salons representing Japan as well as one from Korea.
COLLECTION STAGE PART-1: Creative Work
For a beauty artist the most common and important work is representing the "Work" stage. As daily jobs = "Work" the ultimate skill is to display true creativity in it.
afloat by Hiroki Miyamura
BEAUTRIUM by Izumi Hatakeyama
DaB by Hideki Sawano
Garden by Yoshiki Kono
K-two by Shigeru Tsukamoto
Zacc by Yoshiro Ohno
artifata by Yoshiyuki Sakai
BLANCO by Daisuke Kuwabara
DADA CuBiC by Takashi Kojo
kakimoto arms by Tomohiro Kobayashi
MINX by Takahisa Okamura
COLLECTION STAGE PART-2 : International Creative
It's a stage for salons invited from overseas.
With a theme of "Creative", please enjoy the free thinking shown on stage.
3Story (South Korea)
Supervisor: Kang Seong-Woo
Hair Designers: Hyun Kyung & Hee Won
COLLECTION STAGE PART-3 : Creative Action
Stage 1's "Work" is symmetric and creative, something which doesn't fit the classification of "Beauty" but demonstrates self respect through performance and space. In a society which is closed and conservative, the vital thing is that the next generation progresses and becomes able to express their imagination. When "Creative" is expressed LIVE the venue will shake with the feelings of "euphoria", "tension", and "energy".
afloat
Supervisor: Hiroki Miyamura
Hair Designers: Hodaka Maebara & Ken Yagasaki
BLANCA
Hair Colorist: Yoshitomo
Hair Designers: Miho Takazono & Miyuki Enomoto
DaB
Hair Designers: Hideki Sawano & Masakazu Akashi
Garden
Hair Designers: Yoshiki Kono & China Akiba & Kumiko Fuse
K-two
Supervisor: Shigeru Tsukamoto
Hair Designers: Asami Kimura & Yuya Matsuura
Zacc
Supervisor: Kazuyoshi Takahashi
Hair Designers: Yoshiro Ohno & Yousuki Wano
HAIR COLORING AWARD 2012
The famous person whose "Current hair coloring most matches their personality" will be voted on and an awards ceremony with the announcement of the winners will be held.
For more information on Splash International, check out the official website of the events producers, Hoyu International.
***
About the photographer:
Michael Steinebach has been fortunate enough to travel and see the world. Exposed to the limitless possibilities of photography 20 years ago, he grew up looking at things differently. He currently shoots in the areas of people, fashion, and news photography in Japan. He maintains a Facebook page with samples of his work. He can be emailed about contract work or with questions or comments on his photography.