Top 10 Japanese Street Fashion Trends – Summer 2014
As seasons changes in Japan, so do the styles on the street. Japanese fashion is famous for moving from trend to trend very quickly, a reputation that's well-earned. Not everyone has the luxury of spending their days people-watching in Harajuku, so we do our best to keep you up to date on what's cool on the streets of Japan's youth fashion capital. The warm weather, numerous festivals and events, and Japanese school holidays make summer the peak season for Tokyo street fashion trends. There are still quite a few warm days left here, but as autumn approaches let's take a look back at the Top Japanese Street Fashion Trends of Summer 2014.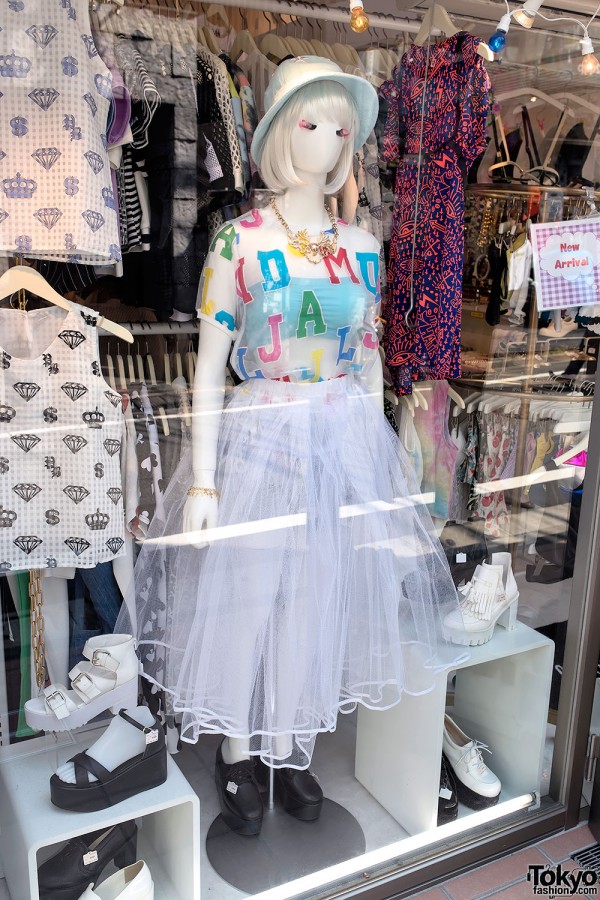 Coordination between Japanese fashion magazines and Japanese retailers used to mean that trends were relatively easy to predict and track. Fashion brands would create certain trend items, shops would stock these trend items, and magazines explained exactly how the items should be worn for maximum effect. These coordinated efforts led to specific looks and pieces appearing everywhere on the street at once. The brands, shops, and magazines would then quickly move on to the next item, and so too would the street.
The decline of print fashion magazines over the last few years – combined with the increasing popularity of social media networks in Japan, independent online shops, the increasing influence of international fast fashion brands, and other "uncontrollable" influences on the Japanese fashion scene – has led to a less predictable (but just as quickly moving) stream of trends. With all of these forces pushing and pulling in different directions, it's become more difficult for super-trends to emerge. The number of niche/smaller trends, however, appears to be ever increasing.
We judge trends by actually looking at what people are wearing on the street every day in Tokyo. That might sound obvious, but we see plenty of articles (especially on Western blogs) trying to predict or declare Japanese fashion trends based on what they see in Japanese fashion magazines (not to mention those that just make things up). Japanese fashion magazines are, for the most part, in the business of creating content to drive the sale of certain products. The fact that a Japanese magazine – or multiple magazines – is promoting a "trend" doesn't necessarily mean that the trend will ever make it to the street. As mentioned previous, the Japanese street is more than willing to reject top-down fashion "trends" these days.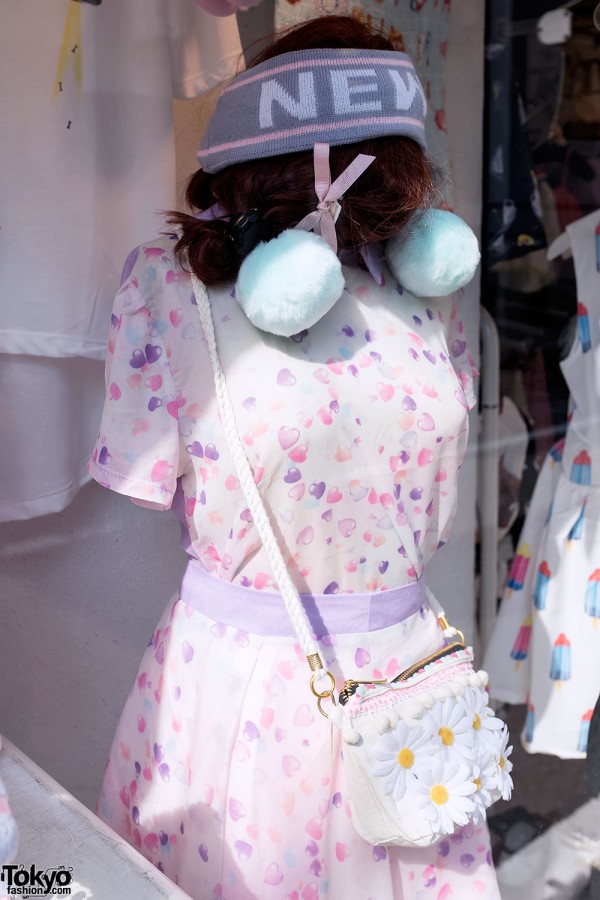 Since summer 2014 kicked off in Tokyo, we've been doing our best to track the most popular trends on the street. We spend most of our time in Harajuku, Shibuya, Koenji, and other areas that are frequented by Tokyo's most fashion forward kids. If you live out in the countryside, your results may very.
This summer might be called "The Summer of Bubbles" because so many of the hot Tokyo street fashion trends are centered around the Harajuku boutique Bubbles. Bubbles used to be one of Tokyo's highly curated – and relatively high priced – vintage shops. In the last year, though, Bubbles has morphed into a trend generating machine with uber-hip (and lower priced) new items that appeal to a much wider audience. They've also opened a second Bubbles store inside of Tokyo's famous Shibuya 109 department store – increasing their reach and influence. For trendy teen girls in Tokyo, Bubbles has rocketed to the top of this year's "must visit" shops list.
With all of that in mind, here are our picks for the top 10 hottest Japanese street fashion trends of summer 2014:
1. Sheer Everything
Sheer and mesh are everywhere this summer in Tokyo: sheer tops, cutout tops, mesh tops, sheer dresses, sheer panel skirts, and more. Every shop in Harajuku is stocking something sheer, mesh, or panel, and just about everyone is wearing it. We're not sure the source of the trend this year, but every time we see one of these panel dresses, we can't help but think of the brilliant Comme Des Garcons Spring 2012 cutout pieces.
2. Bucket Hats
Bucket hats are everywhere. Harajuku streetwear guys (and LL Cool J) have been wearing these for years, but this summer it became a womenswear trend of top magnitude. These hats quickly crossed into many fashion genres and quickly became a "must have" for young fashion conscious Japanese fashionistas. Like most hat trends before it, we don't expect it to last too long.
3. Sports Jerseys
Sports jerseys are also everywhere. Like bucket hats, they've long been popular with certain style tribes. Fans of the Harajuku vintage boutique Pin Nap, for example, often wear oversized jerseys. But this summer these pieces blew up big time. All of the shops are carrying them and all of the girls (and boys) are wearing them. In a notable move, Spinns displayed Sailor Moon jerseys outside of their Harajuku shops for much of the summer. In addition to the new jerseys flooding the market, this trend was picked up by Tokyo's numerous resale shops with great success.
4. YRU Platforms
The Los Angeles footwear brand YRU exploded all over Harajuku this summer. Everyone is wearing their boots, sandals, and other platform items. We've seen them for sale at exclusive hipster boutiques and at shops where junior high school girls go for cheap trend items. Whoever at YRU had the idea of bringing the brand to Japan should get a promotion.
5. Cherry / Fruit Print
We're not sure why, but cherries are back. A few years ago Nadia Harajuku made a splash by selling cherry earrings to every single teen girl who got off the train at Harajuku Station (only a slight exaggeration). That faded out and we thought cherries were over. Wrong! This summer, even more kids are wearing cherries – and not just earrings. Cherry-print dresses, cherry-print bags, sandals, socks – you name it, it's cherry-print. On the tail of this, other fruit prints rebounded as well. This has been a fruity summer in Tokyo.
6. Platform Sandals
Platform sandals were popular last summer, but they blew up even bigger this summer. The leader of this trend last year was K3&Co (part of the GVGV empire). This year, K3 kicked off the summer with a line of limited edition collaboration platform sandals (one with cherries). All of the collab items were sold out before they ever went on sale, kicking off the summer platform sandal craze. Candy Stripper and numerous other influential Japanese brands also had trouble keeping their kawaii-est platform sandals in stock. We also saw tall sandals from YRU, UNIF, and several other international brands this summer.
7. Crop Tops
This is the second summer in a row where crop tops are everywhere on the streets of Tokyo. We aren't sure if this will be seen as a "trend" in retrospect, or if this is just the beginning of the crop top becoming a standard summer coordinate for Japanese girls. Before 2013, it was extremely rare to see a belly button anywhere in Tokyo – other than at the beach or on the occasional tourist. All of that has changed in the last two years. Will it stay or will it go? Check back with us in 2015!
8. Bustier/Bra Over T-Shirt
We've seen a lot of bustiers and even bras being worn over t-shirts. As with many of this summer's other trends, this can be traced back – at least partially – to Bubbles Harajuku. Our guess is that it is an extension of the harness-over-clothing trend that's been going strong in Tokyo (and worldwide) for a few years. It could also be influenced the Kinji/Cult Party girls who wear lingerie (usually negligees) as outerwear. We've even seen a few girls this summer wearing lace garters over jeans, taking the innerwear-as-outerwear same concept to another level.
9. Faux Fur Sandals, Pom Pom Earrings, Pom Pom Necklaces, Pom Pom Bracelets, Pom Pom Hair Ties, etc.
This summer, Tokyo girls were wearing a lot of faux fur – furry sandals, pom pom earrings, pom pom necklaces, pom pom hair ties, and more. This trend – like many others – was driven by Bubbles Harajuku. The pompom accessories were quickly picked up by the giant low-price trend chains like Spinns and WEGO, but Bubbles is the first place that we saw these items flying off the shelves. The furry sandals were so specific that you could pick Bubbles customers out of the Harajuku crowd just by looking down.
10. Ripped/Cutout Jeans
Denim with the fronts of the legs shredded, ripped, or cutout was trendy this summer. We've even see a few girls taking this trend to the extreme with denim so shredded that one or both legs are missing. A few western blogs have claimed that ripped jeans were some kind of "neo gyaru" thing, but the street isn't buying that hype. This is just as much a Harajuku trend as Shibuya, and we haven't seen anything specifically linking it to gyaru (neo or otherwise).
Honorable Mentions
Those are our picks for the Top 10 Summer 2014 Japanese Fashion Trends. Let's take a look at a few others that almost made the list:
New Balance Sneakers
This spring, everyone in Tokyo was wearing retro New Balance sneakers with every style of outfit. You could find them at every shop in Harajuku – vintage and new. The summer saw the trend fade, but they're still popular on the street. Every time we checked Japan's most popular fashion ecommerce site this summer, New Balance collaborations were still holding spots on the best sellers list.
Gingham
All of the shops were pushing gingham this spring. It never quite took off like they hoped, but it was big enough to hold over into summer to some degree.
Cheerleader Skirts
Pleated skirts that always remind us of – and sometimes come directly from – American Apparel have been popular this summer.
Rock T-Shirts
Not sure if this is a trend or just a fashion staple, but we've seen countless black faded rock t-shirts on the streets of Harajuku this summer.
What's next?
Seasons don't stop-start cleanly. As one season is coming to an end, the seeds of next season's trends are already sprouting.
Plaid Skirts / Plaid Everything
Our prediction for the "must have" Japanese fashion item of Autumn 2014 is a plaid skirt. In August, the female staffers of Bubbles Harajuku began wearing cute plaid skirts and plaid "setups" (skirts with a matching top). Bubbles has been so hot this year that it's not a risky bet to go with their staff picks. That said, this is Japan. Things change quickly and nothing is certain until we see it on the street.
Let us know if you agree or disagree with our Summer 2014 Japanese Fashion Trends. Also, tell us what you think is coming up for Autumn 2014. As always, thanks for supporting Japanese street fashion!
Summer Fashion Trends Harajuku Shop Pictures
Click on any summer fashion trends photo to enlarge it.