Jeffrey Campbell Harajuku – World's First Jeffrey Campbell Boutique Opens in Tokyo
Jeffrey Campbell's edgy footwear designs have earned the brand a devoted cult following with fashion-forward women – and celebrities – all over the world. In Tokyo, Jeffrey Campbell shoes are popular in the street fashion scene, with Harajuku style sensation Juria Nakagawa being one of the brand's biggest boosters. Japan's legendary appetite for next-wave fashion – along with JC's burgeoning popularity here – led to this weekend's opening of "Jeffrey Campbell Harajuku", the world's first stand-alone Jeffrey Campbell boutique!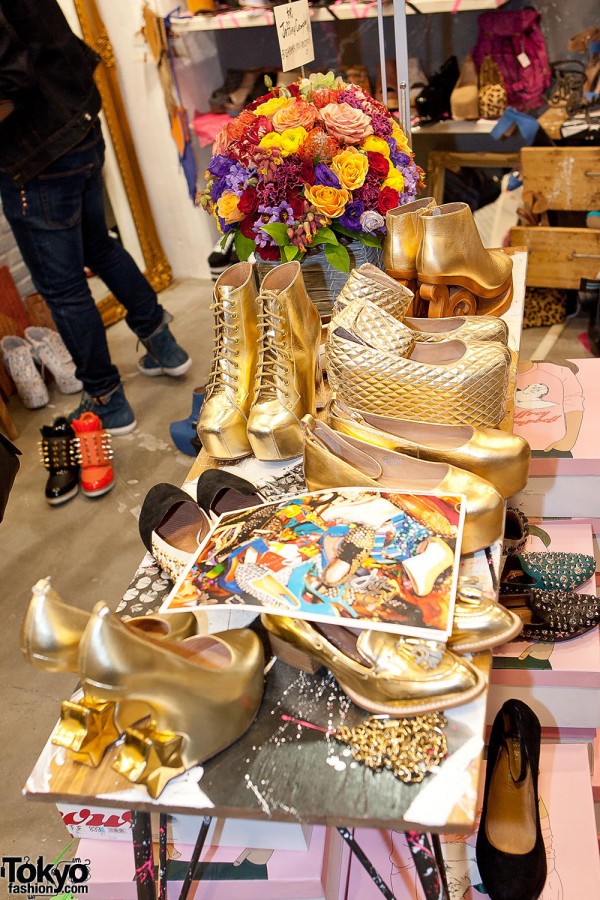 Jeffrey Campbell Harajuku is located on the third floor of the famous LaForet Harajuku department store in the center of Tokyo's youth fashion district. The store, which opened on February 23, 2012, features a wide selection of the designs that made the brand famous – including Litas, boots, sneakers, pumps, and platforms, lots of platforms!
Designs from the Jeffrey Campbell 2013 Spring/Summer collection are currently for sale, with new items to be rolled out with each season. The Jeffrey Campbell men's footwear collection can also be found here, which is not as widely available as the women's line. In addition, the shop stocks Jeffrey Campbell iPhone cases and several other small accessories. But without a doubt, the stars of this shop are the shoes – especially the ones with tall platforms and lots of spikes.
The highlight of the Jeffrey Campbell Harajuku grand opening was the unveiling of several limited edition all-gold Jeffrey Campbell styles exclusive to the Harajuku store. There was a crowd waiting as the doors opened, and we heard that several of the exclusive gold models sold out before the end of the first day.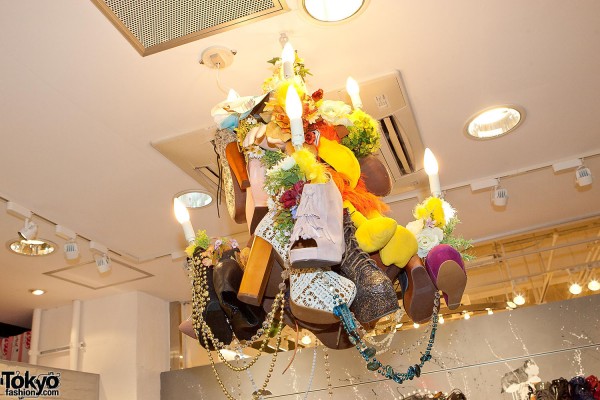 The interior design of the Jeffrey Campbell Harajuku store has a punk vibe with splattered paint and pasted-up photos on the walls. In the center of the store hangs a cool chandelier made of Jeffrey Campbell shoes and stuffed animals.
For those of you who couldn't make it to the Jeffrey Campbell Harajuku grand opening, we hit the preview and brought back pretty pictures to show you what you missed. Check out the photos below, and don't forget to stop by Jeffrey Campbell Harajuku the next time you're in Tokyo (address below the pics).
Click on any Jeffrey Campbell Harajuku shop photo to enlarge it.
A big thank-you to Jeffrey Campbell Harajuku for inviting us to preview their new store! For those of you who want to visit, here is all of the important information:
What: Jeffrey Campbell Harajuku
Where: LaForet Harajuku, 3rd Floor
Finding It: LaForet Harajuku is one of the most famous department stores in Tokyo. Easy access from Harajuku Station, Meiji-Jingu Mae Station, or Omotesando Station
Address: 3F, 1-11-6 Jingumae, Shibuya-ku, Tokyo 150-0001
Phone: 03-6434-0335
Hours: 11:00-20:00
Online: Official Japanese Website
All photos by Michael.
***
About the photographer:
Michael Steinebach has been fortunate enough to travel and see the world. Exposed to the limitless possibilities of photography 20 years ago, he grew up looking at things differently. He currently shoots in the areas of people, fashion, and news photography in Japan. He maintains a Facebook page with samples of his work. He can be emailed about contract work or with questions or comments on his photography.