Springtime in Japan means one thing above all else – hanami! Beautiful cherry blossoms bloom, and every park in Japan fills with joyous people celebrating the season's sakura. Besides being the kawaii capitol of the world, Harajuku is lucky to be the home to Yoyogi Park, one of the largest parks in all of Tokyo. What do you get when you mix kawaii Harajuku fashion and traditional Japanese sakura viewing? You get the Harajuku Fashion Walk KAWAII HANAMI!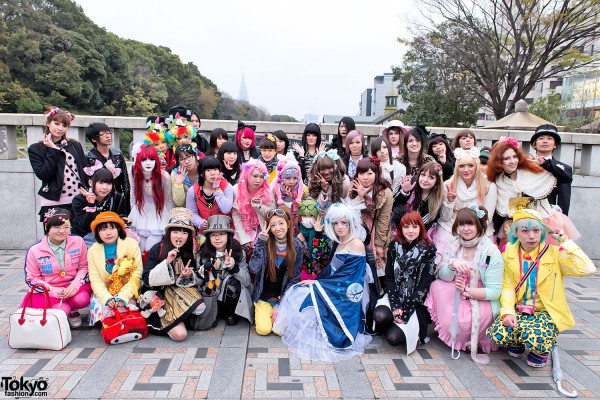 On Sunday, after the latest Harajuku Fashion Walk, Junnyan and his merry band of "Harajuku Kids" headed for Yoyogi Park to hanami the night away. People came and went as the night went on, but a couple of things were constant – lots of fun with friends, and pretty cherry blossoms all around.
If you've never been to Japan during hanami season, start making plans for next year! Beyond the beauty of the cherry blossoms, it's the easiest time of year to make new friends. Moments after the Kawaii Hanami began, other park revelers approached offering food and drinks and just generally hanging out and having fun. That's the spirit of hanami in Japan – fun, friends, and flowers!
We know that not all of you could make it to Yoyogi Park this year, so we brought back plenty of pictures and video. Please enjoy the Harajuku Kids Kawaii Hanami wherever you are in the world, and we hope to see you in Harajuku next year! Happy Hanami everyone!!!
Kawaii Hanami in Harajuku Video
Don't forget to Follow TokyoFashion.com on YouTube.
Kawaii Hanami in Harajuku Pictures
Click on any of the hanami photos to enlarge them.
Thank you to Junnyan and all of the Harajuku Kids for a fun time!
If you'd like to know more about Harajuku Fashion Walk and the Harajuku Kids, check out Junnyan's Facebook page!