Kikou Harajuku – New Shop Open
While on our way to the opening of the ScoLar shop in Harajuku on Saturday, we stumbled upon the opening of another shop in the same area. The other new shop that opened on Saturday, December 6, 2008, is called Kikou Harajuku.
Kikou Harajuku Shop: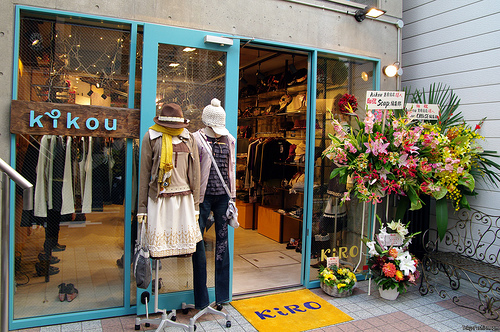 Kikou appears to be owned and run by the same company that owns the famous Japanese gothic fashion label h.NAOTO, s-inc. But, s-inc also owns a lot of other brands, and the Kikou shop was definitely not a gothic or lolita shop. The goods in this shop were cute Japanese-bohemian looking with a lot of knit and some lace trim. They carried some dresses and clothing, but a lot of the shop was dedicated to Japanese accessories like hats, gloves, scarves, bags, shoes, boots, hair ties, and that type of thing.
Looking at the s-inc website (and the welcome mat in front of the store), it appears that much of the clothing at the Kikou shop is part of their KiRO fashion brand. You can see what KiRO clothing looks like at this link. The page is in Japanese, but there are plenty of pictures.
As is traditional in Japan, the shop had flower stands out in front that were sent by well-wishers. For fashion shops, there are many entities that might send flowers for your Tokyo new shop opening, from fashion magazines and wholesale clothing suppliers to friends and other clothing brands.
Flowers in front of Kikou Harajuku on opening day:

If you want to check out the new shop, here are the details:
More new Tokyo shop news soon.