Kimono Pictures on Coming of Age Day in Tokyo 2012
Yesterday, January 9th, was Coming of Age Day in Tokyo. Called "Seijin no Hi" in Japanese, Coming of Age Day is a time for families and friends to celebrate the transition from childhood to adulthood of young Japanese men and women who have reached their 20th birthday within the last year. Coming of Age Day starts with "official" ceremonies at local government offices all over Japan. After that, many 20-year-olds visit a shrine with their families. The day usually ends in a more relaxed manner with young people gathering together to party with friends.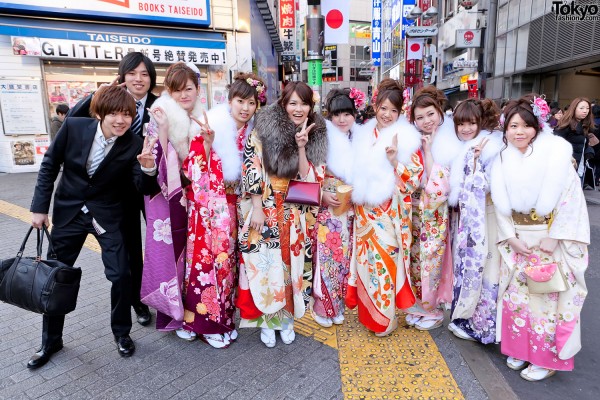 Perhaps the most interesting aspect of "Seijin no Hi" to fans of Japanese fashion is that it's one of the few days of the year when you can see young people walking the streets of Japan in traditional dress. Young Japanese women celebrating Coming of Age Day dress up in beautiful furisode kimono and visit salons to have their hair and makeup done for the ceremonies. In between events, and after they are done with the official ceremonies, you can see groups of 20-year-old girls walking all over Tokyo dressed in colorful kimono. Guys celebrating Coming of Age Day dress up as well – but in suits, not kimono. Of course, the young men look handsome, but it's the kimono-wearing young women who turn heads all over Japan on Coming of Age Day.
Because of the beauty of the kimonos – and because it's so rare to see so many young people wearing them on the same day – we go out every year on Coming of Age Day to take photos. Our usual place to take pictures (and one that we can recommend if you are ever in Tokyo on Coming of Age Day yourself and looking for kimono) is Meiji Shine in Harajuku. Many young women and their families make a pilgrimage to Meiji Jingu on "Seijin no Hi".
For a change of pace, this year we shot photos in Shibuya. It might sound a little strange at first to think of kimono-wearing girls walking around Shibuya 109, but on Coming of Age Day it's a common sight. In fact, one of the girls we photographed was even carrying a shopping bag from TutuHA!
Please enjoy the Shibuya kimono pictures and join us in wishing all of these fine young Japanese women and men a Happy Coming of Age Day! Click any of the photos below to enlarge them.
Click on any of the kimono pictures to see them in even-more-beautiful high resolution.
Once again, we send out our best wishes and congratulations to each and every one of the Tokyo girls and guys that we met on Coming of Age Day. The future is yours for the taking!