Kinokuniya Aoyama in the AO Building
There is always some new crazy building changing the skyline in Tokyo. Earlier this month, we saw the unveiling of the H&M "Ice Cubes" building in Harajuku. Not to be outdone, there is another massive skyscraper about to open with in walking distance (if you're feeling genki) over in Aoyama.
The AO Building in Aoyama is not quite open yet, but it is now fully built and lit up nicely just in time for the winter holidays.
The AO Building in Aoyama at night: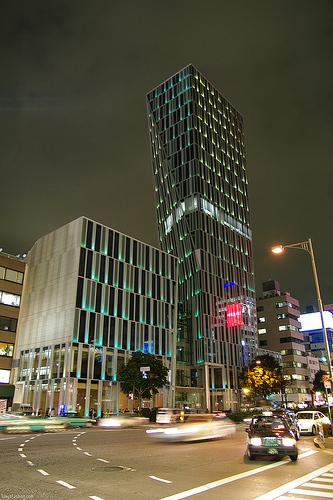 Even though the main building isn't open, the Kinokuniya International Supermarket in the basement opened a couple of weeks ago. If you live in Tokyo, and you like to cook, you've got to love Kinokuniya. They carry lots and lots of tasty import food – including products that are really hard to find in Japan. Roast turkey is sounding real good around this time of year, and Kinokuniya has it. Yum.
But, back to the AO Building. When it opens, this massive structure, a new wonder of Tokyo architecture, will be full of shops and restaurants and other places for Tokyoites to spend their hard earned cash. Because there are sure to be many fashion shops, brand boutiques, and other stuff like that, we'll be sure to keep a close eye on the progress of AO and keep you updated.
What: AO Building Aoyama with Kinokuniya
Where: Aoyama Dori, near Omotesando Station
Address: 3-11-7 Minami Aoyama, Minato-ku, Tokyo, Japan
Nearest Train Station: Omotesando Station
More updates on the AO Building as it gets closer to opening.