Kyary Pamyu Pamyu & Sebastian Masuda to Create "Table of Dreams" for Tokyo Christmas Exhibition
The holiday season is in full swing in Tokyo. Besides plenty of shopping and beautiful Christmas decorations all over town, the end-of-year holidays are also when families spend more time with each other. Some of that family time is spent eating. In the spirit of families eating together, the non-profit Japanese organization Table of Dreams has organized a special exhibition at the Time Out Cafe Gallery in the Ebisu area of Tokyo. This isn't just any art show, either. The Table of Dreams "Christmas With Friends" exhibition features two of our favorite people – Kyary Pamyu Pamyu and Sebastian Masuda of 6%DOKIDOKI!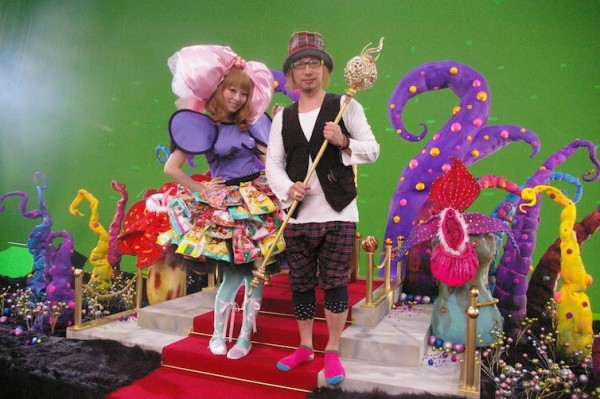 The goal of Table of Dreams is to build richer human relationships through food. For the upcoming exhibition, Kyary – with the help of Sebastian from 6%DOKIDOKI – will create her own "Table of Dreams". The theme of Kyary's Table of Dreams will be "Christmas With Friends". The exhibition opens on December 19th at the Time Out Cafe, and will run through Christmas Eve. Admission is free, so don't miss it!
Here is all of the event information, directly from the source:
Kyary Pamyu Pamyu "Table of Dreams" Exhibition
Title: "Table of Dreams featuring Kyary Pamyu Pamyu – Christmas With Friends"
Place: Time Out Cafe and Diner Gallery (2F Ebisu Liquidroom, 3-16-6 Higashi, Shibuya-ku)
Date: 19th December – 24th December
Time: 12:00 – 21:00 (There is a possibility that the times will change depending on the day)
Cost: Free Entry
About Table of Dreams
"Table of Dreams", based on the concept of "let's eat", is a non-profit group which helps to form bonds by having everyone sit around the table and have food together. From time immemorial, people have shared delights with each other, talking and laughing, through sitting around a dining table, and eating together. By repeating these tales and passing them on, you find connections with new friends and family and all sorts of people. It greatly widens the scope of ingredients and cooking, and even heightens the richness of the food and your health. A heart that can shine with brightness and a healthy body. The aim is for everyone to sit around the table and form bonds by eating together. With that is also the joy of eating. Turning the connections with friends and family into strength for healthy living. Bringing richness to life by using the power of food to build up health and natural interpersonal connections with people. Let's create bonds together from the table. – From '夢の食卓とは' the "Table of Dreams" website.
About Time Out Tokyo
Centered around London, the Time Out Tokyo edition and media has spread to 35 cities worldwide including New York, Shanghai, Kuala Lumpur, Tel Aviv, Amsterdam and Sidney. Under the idea that, "The really amazing thing is that it moves you wherever and whoever you are" it sends dispatches bilingually in English and Japanese on the best people, things, services and content from Japan.
For more information, please see the Table of Dreams website.