Kyary Pamyu Pamyu at Tokyo Dome City – Pictures & Video
Kyary Pamyu Pamyu is everywhere! Once a common sight on the streets of Harajuku, she can now be seen in fashion magazines, on Japanese television shows, on billboards, and even on vending machines! Kyary's latest appearance was at Tokyo Dome City to help launch two new amusement park rides – the Furi Furi Grand Prix and Super Viking SORABUNE. Like any event that Kyary shows up for, the launch involved a lot of fun and much cuteness. If there's anything more kawaii than Kyary Pamyu Pamyu, it's Kyary Pamyu Pamyu with the Tokyo Dome City mascot characters!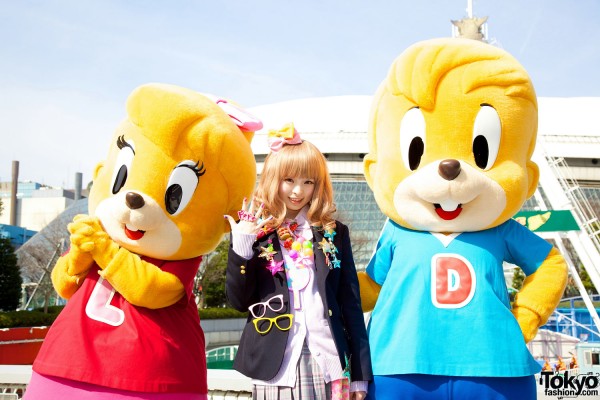 Kyary's appearance was part of a big promotion by the popular Tokyo Dome City amusement park for this week's launch of their new "Super Viking Sorabune" (Sky Boat) ride and their driving ride, the "Furi Furi Grand Prix". The Sky Boat is a giant swinging ride that sends you "up the heavens" in a giant ship. The Furi Furi Grand Prix – which Kyary tried out during the launch event – is a cart-based ride that tests your driving skills on an obstacle course.
Besides the new rides, Tokyo Dome City also unveiled a cute new Kyary Pamyu Pamyu promotional campaign poster featuring Kyary in the form of 5 characters (the Geek, the Yankee, the Princess, etc.). Visitors can take a photo of themselves as a character in the picture at a special booth at Tokyo Dome City. The park also launched a limited-time discount pass for students who want to relax and have fun after this month's Japanese university graduations.
Tokyo Dome City and Kyary were nice enough to invite us to the event so that we could bring back pictures and video to share with you. Enjoy our trip to the amusement part with Kyary, and don't forget to check out Tokyo Dome City the next time you visit Japan.
Kyary Pamyu Pamyu at Tokyo Dome City Video

Please subscribe to the official TokyoFashion YouTube Channel!
Kyary Pamyu Pamyu at Tokyo Dome City Pictures
Click any of the Kyary at Tokyo Dome City pictures to enlarge them.
For more information on Tokyo Dome City and Kyary, check the following links:
Photos by Kira. Video by 1K Films.
***
About the photographer:
Born in Japan, educated in Japan and the US, Kira shoots exclusively with Canon DSLRs. Photography assignments include fashion, bands, sporting events, and portraiture for various companies and bands throughout Japan & the world. His portfolio can be viewed at Artist-Photo.
About the filmmaker:
1K Films is a full production independent video company working in both the US & Japan. For more info, check out the 1K Films website.