Lady Gaga Blowing Up In Japan
It's should come as no surprise that Lady Gaga is blowing up in Japan like she did around the world – bringing not just her songs, but also her crazy fashion to Tokyo and beyond. Gaga was in Tokyo this week to do some promotional TV shows and greet her Japanese fans (photos here).
The speed of her ascent here has definitely been impressive. Walk into any random hip young women's clothing shop in Tokyo and you're likely to hear Fame or Poker Face blaring. When she was first announced as a Summer Sonic (the Japanese summer music festival) act, she wasn't well known in Japan, so they didn't bill her very high. A few months later, by the time the promoters had sorted out the order in which artists would be performing, her singles had taken off on Japanese radio and video channels. She's now sharing the top bill on one stage with the Klaxons.
We haven't seen too many Tokyo girls emulating Lady Gaga's style exactly, but the 80's influence is all over town and Gaga's funky re-interpretation of the 80's and 70's is sure to reinforce the idea that it's cool to be retro (and brightly colored) at this moment in fashion history.
While in Shibuya the other day, we noticed Lady Gaga's "Poker Face" video playing on a promotional music video channel. A close look at the screen revealed this cute Japanese re-interpretation of her hit song's name. Check it out.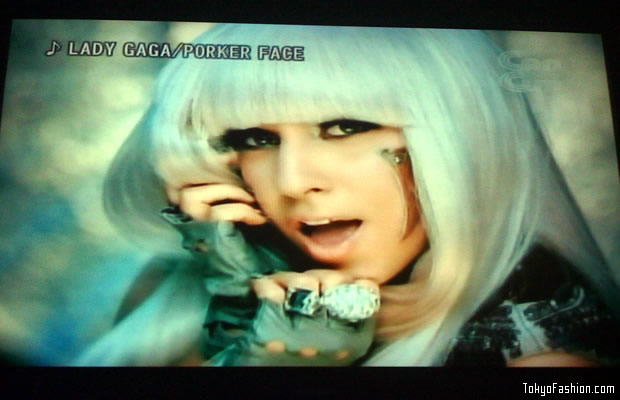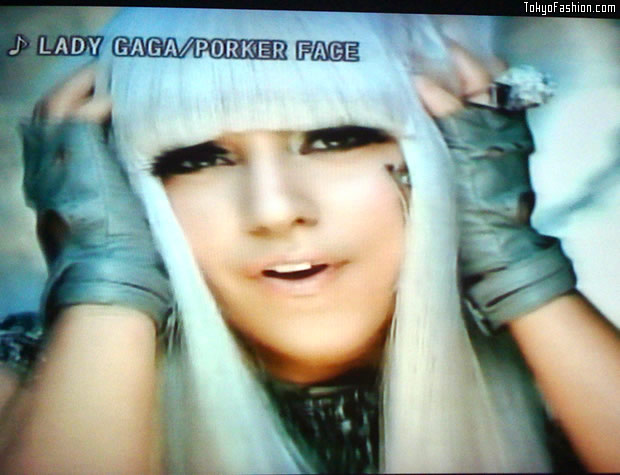 I'm not sure how funny Lady Gaga herself would find the "Porker Face" typo, but she does seem like someone who could take a joke, right?
The Tokyo Fashion crew is planning to be at Summer Sonic in August, so we'll try to bring back a report on what the Japanese Gaga-fans are wearing when August comes around.