Limitless Luxury Shibuya Grand Opening
Was walking in Shibuya today and noticed there is a new shop opening on Halloween. This one is called "Limitless Luxury" and it looks like it will be a Japanese women's clothing store. It's quite near the Bathing Ape (BAPE) shop in Shibuya on that same street. They apparently already have two other locations – one in Kobe and one in the Lumine department store in Shinjuku, but I don't think I've ever been in either of those shops.
The Shibuya LL shop officially opens on October 31, 2008, but they are having and opening party on October 30th. On the front window of the shop they have hundreds of gold and pink hearts which can be removed by interested Japanese girls – when you pull the little heart off of the window, it's a flier for the shop and also an invitation to the opening party in Shibuya. Pretty cute.
On the "Limitless Luxury" website, they describe their concept like this:
"This is how women should be. I don't like such stereotypes. I just want to live as free as I can be without being bound by standards. Everyday, I choose my clothes to play an independent woman, strong and tender but a little vulnerable…"
Here are a few pictures of the shop and the cute heart-shaped invitation: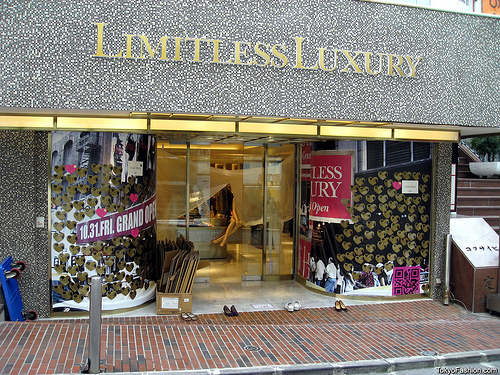 More pictures in the related Tokyo Fashion Flickr set.
Shop info: Limitless Luxury Shibuya
Where: Shibuya, Tokyo, Japan
Address: 13-16 Udagawa-cho Shibuya-ku Tokyo Japan 150-0042
Phone: 03-5728-8577
Hours: 11:00-20:00
Map: Shibuya Location Map
Website: Official Site (Japanese)
Maybe I'll post an update once the shop is open and I've had time to check out the inside and see what they're stocking.