Liz Lisa Harajuku Fall 2008 Fashion
Walking down Takeshita Dori in Harajuku, I always take a peak at what the Liz Lisa shop is hyping to keep an eye on Japanese fashion trends.
Liz Lisa is an extremely popular and hip young Japanese women's clothing brand. Liz Lisa clothing appeals to Japanese girls who are into the Hime Gyaru fashion style. Himegyaru is the Japanese "princess" style of fashion. It incorporates a lot of white and pink colors and the hime hairstyle is generally very big with a lot of hairspray. To the uninitiated, some hime gyaru girls may look a lot like the Japanese lolita girls. In fact, it is not the same style, and the brands that the hime gyaru wear are different than the lolitas, but it is not uncommon for young girls to graduate from lolita to hime as they get older.
When I walked by last week, the Harajuku Liz Lisa store had a lot of folklore style clothing in their window and in the front of the store. That is to be expected because pretty much every hip shop in Harajuku or Shibuya is packed with folklore items right now (winter 2008). Liz Lisa, of course, puts their own hime gyaru twist on the folklore theme by replacing many of the dark colors that you see in this season's folklore trend with white or off-white tones.
The window of the Liz Lisa Takeshita shop currently says "Sweet Honey – 2008 Winter Collection – White Folklore" and shows some white and off-white folklore items including heeled boots, a fluffy sweater, skirt, hat, and other items.
Here is a picture of the Liz Lisa window as it is now: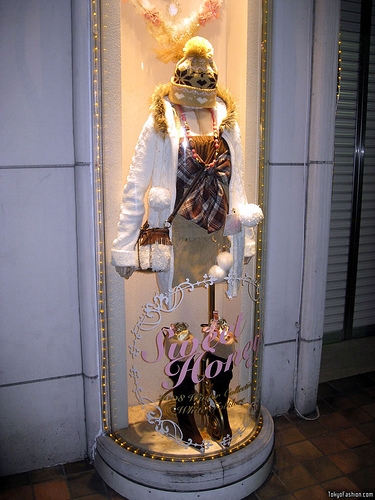 I'll try to post pictures of the Liz Lisa windows now and then just to keep you all up to date on the current trends in Hime Gyaru fashion.
The address of the Takeshita Liz Lisa store is: 1-6-12 Jingumae, Shibuya-ku, Tokyo, Japan. Phone number: 03-5775-7495. The shop is on the left side of Takeshita Dori as you walk away from Harajuku Station. If you need a map, you can check out this Harajuku Shopping map for exact directions.