Marc Fisher Aoyama is Closed
Last month, we reported on the Marc Fisher Aoyama closing sale. At that time, we didn't have confirmation that the shop was actually closing, other than our reading of the sale signs in the window.
Well, it looks like Marc Fisher wasn't kidding. A recent walk by confirms that Marc Fisher Aoyama is now closed and gone. The building is now totally empty, even though most of the Marc Fisher footwear signs are still on the building.
Here is a photo of the now-empty building: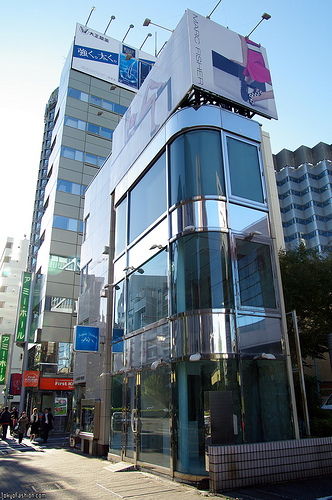 Even though the floor space is quite small, this building is in a good location on Aoyama Dori right near the United Nations building. I'm sure there must be other brands looking for a space in the area, so we'll keep an eye on the vacant building to see what shows up there next.
For now, just a farewell to the main Marc Fisher shop in Tokyo! Don't worry, though, there are plenty of other shops and department stores that still carry the Marc Fisher shoes, heels, boots, and other footwear in Tokyo and around Japan.