MEG Joins Twitter (Japanese Singer & Fashion Designer)
Last week, in a bid to expand their reach in Japan, Twitter announced that they were launching a Japanese language interface for mobile users. At almost the same time, popular Japanese singer and fashion designer MEG announced to her fans that she had joined Twitter and would be posting updates (in Japanese) about her music, fashion, and life. MEG's new Twitter account is _x_MEG_x_.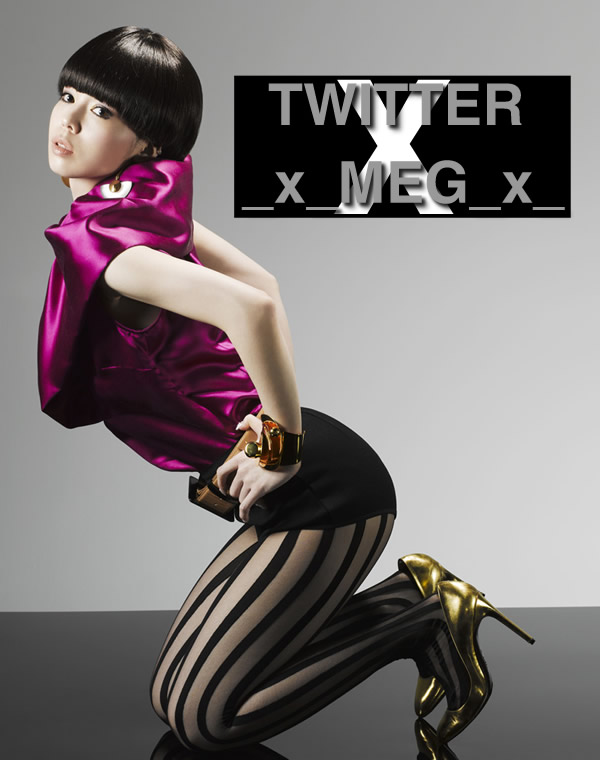 While MEG is still best known as a popular dance singer – having worked with lots of cool people including producer Yasutaka Nakata (Perfume, Capsule, Crystal Kay, etc.) and British electro band Hadouken!, and having performed at major events including Summer Sonic and Wire Yokohama – her reputation as a fashion designer has been growing rapidly. She launched her first women's fashion collection under the brand name "cheryl by Carolina Glaser" in 2004 and has since seen the brand expand to include a men's line and cosmetics.
With all of the different project that MEG has going on – and all of the cool bands and fashion designers she interacts with – we are looking forward to seeing what she offers up on her Twitter account. If you can read Japanese, you might want to check it out as well. For more info, here is a link to MEG's official page at the Japanese fashion website Zozo.
Now that Twitter is available in Japanese, the Tokyo Fashion crew will keep an eye out for other interesting Japanese fashion industry people singing up – if we find any, we'll report back and let you know. Don't forget to follow TokyoFashion on Twitter too!