Mejiro Fashion & Art College – Fashion Show Pictures
Tokyo's Design Festa is billed at the "Biggest Art Event in Asia". That's probably true, but Design Festa is much more than just art. Along with the artists, independent fashion designers and craftspeople from Japan – and all over the world – set up shop at Design Festa and offer their creations directly to the public. You can find everything from graphic t-shirts to custom sneakers to silver jewelry to extravagant lolita dresses (gothic and sweet) to colorful fairy kei and decora accessories to beautiful dolly kei headpieces. Most everything is handmade and often one-of-a-kind.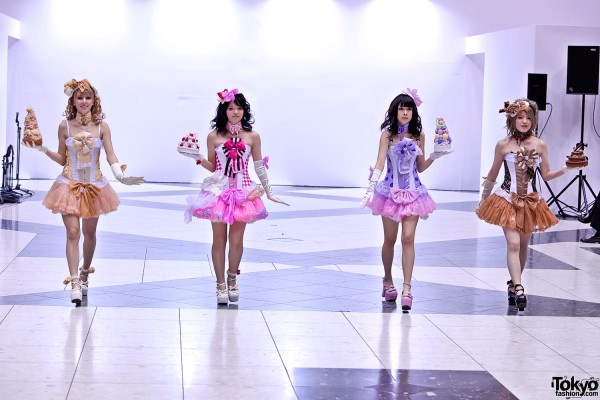 Another group of people you're likely to bump into at Design Festa are students from Japan's various art, design, and fashion schools. Students often have booths where they display and/or sell the items that they have created as projects for their classes. In some cases, a Design Festa booth is part of their class requirements.
Such was the case this weekend when Tokyo's Mejiro Fashion & Art College set up several booths at the Fall 2011 Design Festa event. In addition to their booths, Mejiro College students also organized a fashion show on the indoor stage at Design Festa. We happened to be at the event, so we took some snapshots of the Mejiro Fashion & Art College fashion show to share with you. All of these outfits were created by the next generation of Japanese fashion designers.
You can click on any of the Mejiro Fashion & Art College fashion show pictures to blow them up.
Click any of the Mejiro Fashion Show pictures to enlarge them.
For more information on the Mejiro Fashion & Art College, check out their official website.